La Chaux-de-Fonds Photos
From: Le Chaux-de-Fonds, Switzerland
On this page, we've provided a random assortment of captioned pictures from Le Chaux-de-Fonds. Also see our related articles on the Tour Espacité, La Maison Blanche, La Villa Turque, and the Théàtre and Salle de Musique L'heure Bleu for more architectural information, tourist advice, and photographs.
---

Old and new architecture coexist peacefully in La Chaux-de-Fonds. (The green glass building is the Metropole Centre near the railroad station.)
---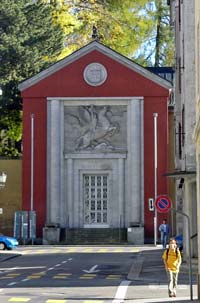 The Musée des beaux-arts is one of four attractions in the Parc des Musées just east of the railroad station. The others are the Musée international d'horlogerie, the Musée d'histoire, and the Carillon, which offers music with an animated display every 15 minutes.
---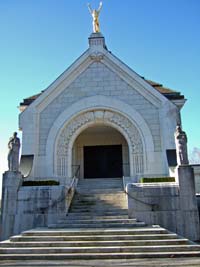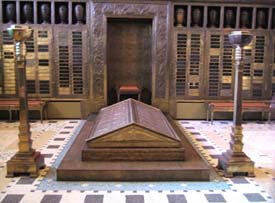 The Crémetoire, or crematory, was designed by architects Robert Belli and Henry Robert in 1908 and built at a cost of 30,000 Swiss francs. It's in the Cimitière de la Charrière, a public cemetery that opened for business in 1852.
---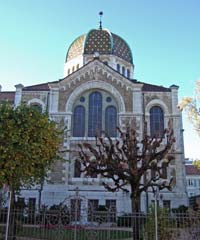 The neo-Byzantine Synagogue on the Rue du Parc was built from 1894-1896 to serve the Jewish watchmakers and industrialists who played such an important role in the economic and cultural development of La Chaux-de-Fonds during the 19th Century. At that time, the city's Jewish community numbered about 850. (Today, about 300 Jews remain in the city.)
---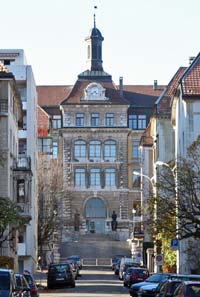 The Ancien collège industriel was the largest building in La Chaux-de-Fonds when it was completed in 1876. Today it's the Bibliothèque, or public library.
---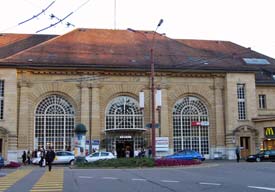 The Gare (railway station) was designed in 1901 and completed in 1904. The architects were Ernest Prince and Jean Béguin of Neuchâtel.
If you look carefully, you can see the golden arches of a McDonald's in the right-hand corner of the building.
---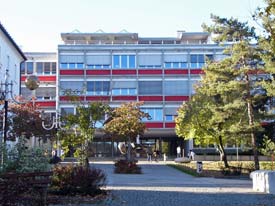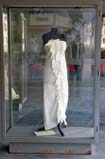 Charles-Edouard Jeanneret-Gris, later known as Le Corbusier, received his education at L'Ecole d'art, a.k.a. the Art School, on the Rue de la Paix.
Glass cases in front of the current building display the work of students.
---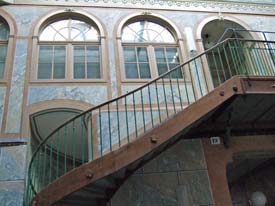 One of the more charming buildings in town is the Ancien Manège or Old Riding School, which combines modern features such as a skylit atrium with curving staircases that disappear into faux marble walls. In 1868, the building was converted from a riding school into workers' dwellings. Today it's occupied by offices and a bar.
---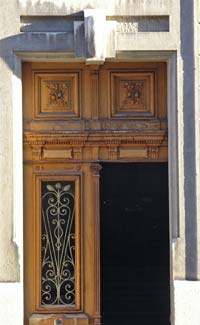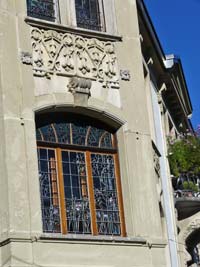 Keep your eyes open as you walk around La Chaux-de-Fonds, and you'll see Art Nouveau decorations wherever you look.
---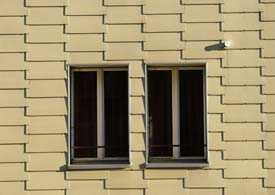 This is one of our favorite building façades in La Chaux-de-Fonds: simple, yet interesting.
---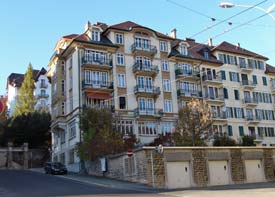 Modern garages make these historic apartment buildings more appealing to 20th Century residents.
---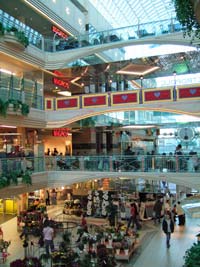 Even more modern is the Metropole Center, a downtown shopping mall.
---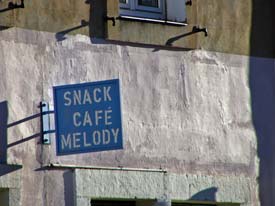 For a more traditional experience, visit a neighborhood café in a side street.
---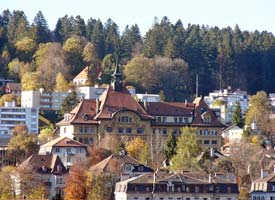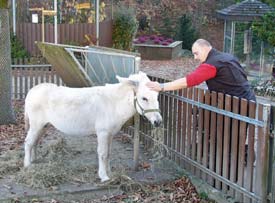 Or head uphill to the local Zoo and Vivarium, which has free admission and a large adventure playground where your children can play while you pat the pony.
---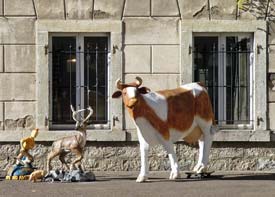 A cow sculpture in La Chaux-de-Fonds lets city kids pretend they're Heidi or Peter.
---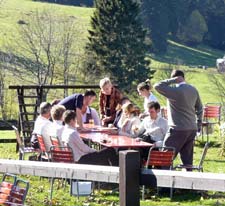 Eating outdoors is a favorite summer pastime at l'Auberge de Mont-Cornu. (See our La Chaux-de-Fonds Restaurants page.)
---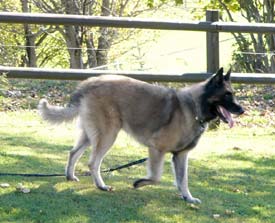 What fun is an outdoor meal without a dog?
Back to: La Chaux-de-Fonds - Introduction
---
---
---
---