"RIFFELALP HISTORY" Page 1, 2, 3, 4, 5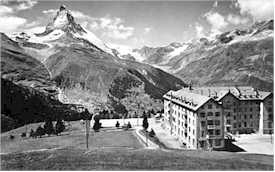 ABOVE: A closer view of the old Riffelalp Grand Hotel with the Matterhorn in the distance.
Six years of construction
The great adventure of building the Hotel Riffelalp started in the summer of 1878. At that time, there was no railway to Zermatt, and the Gornergrat rack railway was only opened 20 years later. It took ten hours by donkey and horse to transport building materials, some very precious, from Visp to Zermatt and then up to the building site. Alexander Seiler planned the building work with military precision and supervised it all personally. After all, his vision was for the Hotel Riffelalp to become not just any hotel, but the best mountain hotel in Switzerland, indeed in the Alps.
Since work was possible at this altitude only in the sumer months, the construction of the four-story building with 150 beds took six years. The Anglican Chapel was built at the same time.
There was also another reason for the long time it took to finish the building: Alexander Seiler did not want to use borrowed capital to fund his projects, and he financed everything from his own funds.
An instant success
The Hotel Riffelalp was formally opened on 10 July 1884. Marie Clausen Cathrein, the sister of Alexander's wife Katherina, took over the management of the hotel. The family's expectations were not disappointed. The crush of wealthy guests from all over Europe was so great that, very soon, the hotel had to be extended. In 1887, the Anglican Chapel was joined by a Catholic Chapel. By 1890, the Hotel Riffelalp had 200 beds. Building work continued after Alexander Seiler's death. By 1893, the number of beds rose to 250 with the construction of the first annex. In 1898, after the second annex had been completed, the Hotel Riffelalp offered 280 beds.
Next Page > The railroad arrives > Page 1, 2, 3, 4, 5
---