"RIFFELALP HISTORY" Page 1, 2, 3, 4, 5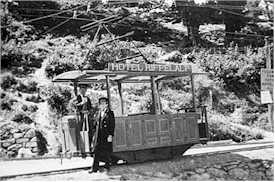 ABOVE: The electric tram from the Gornergrat cogwheel railway to the Riffelalp Hotel.
The Gornergrat Railway and Riffelalp Tram
The construction of the Gornergrat rack (cogwheel) railway, which was opened in 1898, gave a boost to the number of visitors to "the best mountain hotel in Switzerland," as can be gleaned from the old record. But: The Riffelalp station was approximately one kilometer from the hotel. The builders of the railway had not paid much attention to making the Hotel Riffelalp more accessible. Since the comfort of guests was the foremost concern in this mountain hotel above Zermatt, the Seiler family applied for a concession to build its own electric tram. This would take hotel guests from the Riffelalp railway station to the hotel in comfort.
So, while horse power was still being harnessed to pull carriages in Zermatt, modern technology arrived at 2227 meters above sea level in the summer of 1899. It came in the form of the highest tram in Europe, if not the world. The fact that a lift was installed in the hotel as early as 1906 is further proof of the Seiler family's commitment to progress.
Next Page > Sports attractions > Page 1, 2, 3, 4, 5
---