"RIFFELALP RESORT, ZERMATT" Page 1, 2, 3, 4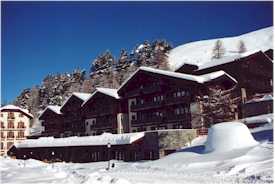 ABOVE: The old hotel annex (far left) has been renovated as the "Nostalgie" wing. The majority of guest accommodations and public rooms are in the new chalet-style structure.
2,000 railcars and 50 million francs
Although the Riffelalp Resort is small by the standards of grand hotels, turning the concept into reality wasn't a simple undertaking. The hotel lies at an elevation of 2222 meters (7,290 feet) and can't be reached by road, so construction materials had to be hauled up from Zermatt by trains of the Gornergrat-Monte Rosa-Bahnen.
In all, some 2,000 railcar loads of antique wood from old chalets, polished granite tiles, stone blocks, and more prosaic building materials were imported by cogwheel railway over the four-year construction period. (The hotel is also building new staff quarters in Zermatt and dedicated parking facilities at Täsch, where visitors to Zermatt must leave their cars before continuing on to the village by shuttle train.)
The cost of the Riffelalp Resort wasn't modest, either: The Sandoz-Family Foundation alone put up 50 million Swiss francs as a long-term, low-return investment--partly as a show of faith in the Swiss hotel industry, and partly because (in the words of the foundation's Olivier Verrey) "The Riffelalp has always been the Sandoz family's favorite holiday location."
Next Page > Arriving as a guest > Page 1, 2, 3, 4
For other information on the resort and Zermatt, click these links:
---
Photos: Riffelalp Resort. Used by permission.