Schlaf im Stroh!
"Sleep in Straw!"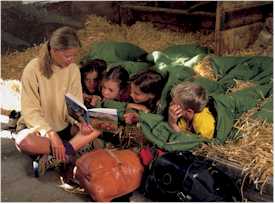 Switzerland has a reputation for being an expensive country, but don't be fooled: Bargains are readily available if you know where to look. For example, with the Schlaf im Stroh! ("Sleep in Straw") program of the Swiss Farmers Association, you can hit the hay in Switzerland for 20 to 30 francs per night--including breakfast.
The concept behind the program is simple: In the early summer, many Swiss farmers send their cattle to graze in alpine pastures. With the cows gone for the season, their barns are vacant, and farmers can turn the cattle's winter quarters into rustic hostels for hikers, families, nature enthusiasts, youth groups, and anyone who's ever wanted to live the life of Heidi and Peter for a few nights.
Facilities vary from basic straw-filled haylofts to accommodations with heating, recreation rooms, picnic and barbecue areas, and horse stalls. (You'll need to bring a sleeping bag.) Toilets and showers are sometimes attached to the barn; in other cases, they're provided in the farmhouse. Special services such as baggage transportation, meals, picnic lunches, and catered birthday parties are available on many farms.
In 2013, the Schlaf im Stroh! rate for an adult is CHF 20 to CHF 30 (depending on the farm), with a Bauernfrühstück or farmer's breakfast of coffee, milk, and bread. (Tea and hot chocolate are usually available on request.) Children up to age 15 are charged 10 to 20 francs per night.
For more information, see:
Schlaf im Stroh!
The Schlaf im Stroh! Association has a searchable database of participating farms, a catalog in PDF format, and a current price schedule.
An example of a Swiss farm where you can sleep on straw:
Familie Irma und Richard Schuler
If you decide that sleeping in the straw is too rustic, the Schuler family will happily rent you a vacation apartment in their farmhouse or a 4½-room chalet in Morschach on Lake Lucerne.