"SCHLAF IM STROH" Page 1, 2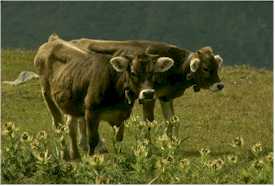 ABOVE: When these cows head for their summer pastures, it's your turn to enjoy the barn.
General Web links
Schlaf im Stroh
The Swiss Farmers' Association has basic information the Schlaf im Stroh program. Click "Offers" to search or browse for farms by region, or download a catalog in PDF format (which requires the free Adobe Acrobat Reader).
Regional and local listings
Familie Richard Schuler
If you decide that sleeping in the straw is too rustic, the Schuler family can rent you a vacation apartment in their farmhouse or a 4½-room chalet in Morschach on Lake Lucerne.
Johann and Regina Künzi
It's less than a kilometer to the "farm live cosy barn" from the nearest public transportation. The Künzis will pick up you or your luggage on request, and meals are available. The farm is located in Wattenwil, a short distance from Lake Thun and the Swiss capital of Bern.
> > Page 1, 2