St. Gallen, Switzerland
Page 2
Continued from page 1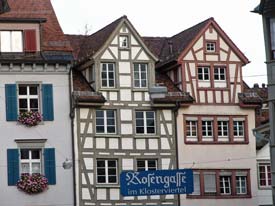 ABOVE: Half-timbered buildings in the Old Town.
General tourist information
St. Gallen Bodensee
Plan your trip at the official Sankt Gallen and Lake Constance tourism site.
University of St. Gallen
Many of the pages here are in English. (The university campus is on the Rosenberg, uphill from the city center, and is worth visiting for its art and architecture.)
Hotels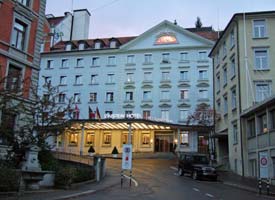 ABOVE: The Einstein Hotel occupies a former textile factory on the edge of the Old Town.
Booking.com: St. Gallen our partner
Europe's no. 1 secure reservations service offers guaranteed lowest available rates at two dozen hotels in St. Gallen.
Einstein Hotel
St. Gallen's reigning traditional hotel occupies a renovated embroidery factory in St. Gallen's Old Town. Personally recommended.
Festivals and fairs
Open Air St. Gallen
This June pop-music festival has been a St. Gallen tradition since 1977.
Olma Messen
St. Gallen plays host to agricultural fairs, trade shows, conventions, and recreational shows throughout the year. A calendar lists this year's events. In German.
Museums
Textilmuseum
St. Gallen's Textile Museum was founded in 1886. It features a permanent exhibition of Swiss embroidery, special exhibits, and a library of textile samples, fashion drawings, and photographs.
Der Botanische Garten St. Gallen
The Botanical Garden has some 8,000 plants outdoors or under glass. In German.
Historisches und Völkerkundemuseum
Visit the Museum of History and Ethnology for its 16th to 18th Century period rooms. Other exhibits range from material culture in Eastern Switzerland to objects from ancient Egypt, Africa, Asia, and Latin America. In German.
Kunstmuseum
St. Gallen's Art Museum opened in 1877. Its collection ranges from Dutch and Flemish masters to contemporary works.
Museum im Lagerhaus
View primitive and outsider art at the Lagerhaus Museum, whose exhibits are drawn from a collection of nearly 3,000 works by 150+ artists.
Naturmuseum
The Natural History Museum has general displays plus exhibits about St. Gallen, including a diorama of the area as it existed 20 million years ago. (Scroll down past the French information for English text.)
Neue Kunst Halle St. Gallen
The New Art Hall is a gallery with rotating shows of modern artists.
Music
Sinfonieorchester St. Gallen
The Symphony Orchestra of St. Gallen dates back to 1877. It performs in the Tonhalle, an historic concert hall near the Old Town.
Food
St. Gallen Monastery Tart
Enjoy an authentic abbey dessert in the privacy of your own home.
---
---
---