Sustenpass Road
Continued from page 1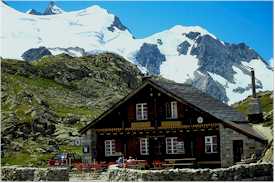 ABOVE: Sustenpass summit restaurant.
Web links
General information
Alpen Region Brienz Meiringen Hasliberg
The town of Meiringen is a good starting point for a tour of the Susten, Furka, and Grimsel passes. Local attractions include the Aare Gorge, Upper Reichenbach Falls, and Sherlock Holmes Museum.
Andermatt switzerlandforvisitors.com
If you're traveling toward Meiringen, Andermatt is a good place to spend the night before heading over the pass. (This article is geared to skiers, but the many of the links are relevant at any time of year.)
Driving in Switzerland switzerlandforvisitors.com
Everything you need to know if your motto is "Skip the bus and leave the driving to us."
Bicycling
Bicycling in Switzerland switzerlandforvisitors.com
Cruise level paths along a lake, ascend the Alps in low gear, or simply rent a bike at a railway station for a quick tour about town.
Photos
Sustenpass with recumbent bicycle
See the riderless low-profile bike in Anton Ertl's roadside photo from Do recumbent bicycles go mountains?