Swiss Rail Passes
Page 2
Continued from Page 1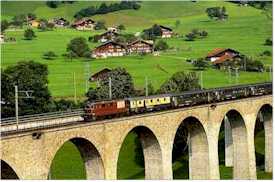 ABOVE: A train of the BLS near Frutigen in the Bernese Oberland.
Rail passes for foreign tourists
The most useful Swiss Travel System passes are intended for foreigners. You can buy them from one of the online sources mentioned on page 3, from many travel agents, or at major railway stations in Switzerland (including the stations in the Zürich and Geneva Airports) upon presentation of a foreign passport.
Swiss rail passes come in versions for first- or second-class travel. Products may vary, depending on your country of residence. Here's a list of passes available to non-residents of Switzerland and Lichstenstein:
Swiss Pass. Use this for unlimited travel on the Swiss Federal Railways, postal buses, lake steamers, and local transportation in 37 cities and towns. Just show your pass to the conductor (along with your passport, if asked). The Swiss Pass also gives a 50% discount on most mountain railroads, funiculars, and aerial cablecars, and it includes a Swiss Museum Pass, which allows free entrance to more than 400 museums and exhibitions.
The Swiss Pass is offered for periods of 4 days, 8 days, 15 days, 22 days, or a month. (Two or more adults traveling together get a 15% discount, and if you're a young adult under 26, you'll save 25% by purchasing the Swiss Youth Pass.)
Swiss FlexiPass. If you plan to stay mostly in a few areas, the FlexiPass is a good bet. It's similar to the Swiss Pass but allows unlimited travel on any 3, 4, 5, or 6, days within a month. (Couples and small groups get special "Saver" pricing.)
Swiss Card. The Swiss Travel System's one-month discount card allows plus unlimited purchase of train, boat, bus, and some cablecar tickets at half price. It includes a journey from a Swiss airport or border railroad station to your vacation destination.
Swiss Transfer Ticket. Use this for roundtrip transportation from a Swiss airport or border point to a destination within Switzerland. The Transfer Ticket is especially handy for skiers who'll be buying lift tickets for local or regional transportation after they reach a resort.
For curent prices, see the links on the next page.
Tip: Eurailpass and Europass allow free travel on Swiss Federal Railways and discounts on some other services, but the passes and cards mentioned in this article are better values if you're traveling extensively within Switzerland.
Next page: Family travel discounts, Web links
---
---