Switzerland with your dog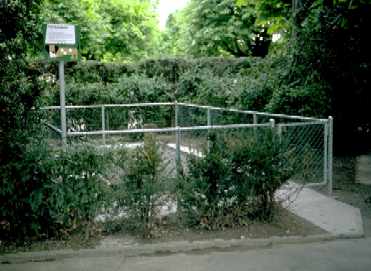 ABOVE: Park restroom for dogs by Lake Thun, in the Bernese Oberland.
Are you worried that Fido will pine away while you tour Switzerland, or that your enjoyment of the Alps will be spoiled because you're homesick for Fifi? Maybe you should consider bringing your dog along with you. Switzerland, like many other European countries, is considerably more dog-friendly than the U.S. or Canada--which means your canine companion won't be the burden that he or she might be on a trip to Manhattan, Las Vegas, or Disney World.
Lassie and the law
The paperwork required to bring a dog into Switzerland depends on your country of residence. If you're coming from a country where rabies is a problem, you'll need to plan ahead, and your dog may require a blood test. For detailed current regulations, see "Bringing Pets to Switzerland" at the Swiss Federal Veterinary Office's Web site, or consult your nearest Swiss Embassy or Consulate.
Come fly with me
Once, while crossing the Atlantic on a Swissair jet, I sat behind a couple who held a small dog in their laps for most of the 10- or 11-hour flight. The flight attendants didn't blink an eye, since the dog's owners had obtained permission from the airline to bring their pet into the cabin.
Airlines vary in their policies on animal transport. Some will allow one or two small dogs per flight into the cabin, providing the animal is brought on board with a pet carrier. Other airlines require that animals travel in the cargo hold--a much riskier procedure, especially in hot or cold weather. (If you must ship your dog as accompanied baggage or air freight, try to book the pet on a nonstop flight.)
It's a good idea to check the latest airline rules and make pet reservations when you book your own tickets, just to avoid a nasty surprise at the airport. And be sure to double-check the current requirements for health certificates and vaccinations before you leave home.
Hotels and your hound
Not every hotel takes pets, but many do. (However, there may be an extra charge of SFr 5-- to 25-- for your canine companion.) Tourist offices' hotel listings often indicate if pets are welcome.
Restaurants for Rover
Most Swiss restaurants will let you bring in a well-behaved pet. I can remember eating dinner at a restaurant in the Bern train station and seeing the waitress serve a plate of food to a customer's dog. However, it's considered bad manners to have your dog sit in a chair while eating--unless, of course, it knows how to use silverware.
Riding trains and buses