Photo Gallery:
Riffelalp Resort
Zermatt, Switzerland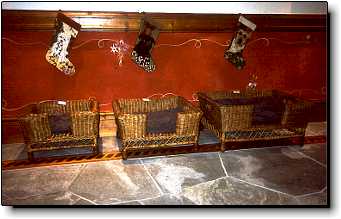 Riffelalp Resort: As you might guess after seeing this display in the lobby, pets are welcome at Riffelalp. Wicker beds in Baby Dog, Mama Dog, and Papa Dog sizes are included in the supplementary pet rate.
Also see: Index of Zermatt and Riffelalp articles and photo galleries.
Photo copyright © Durant Imboden, Europe for Visitors.
Used by permission. All rights reserved.