Photo Gallery:
Riffelalp Resort
Zermatt, Switzerland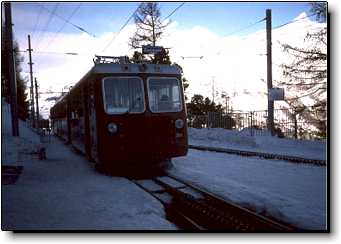 Riffelalp Resort: A cogwheel train of the Gornergrat-Monte Rosa-Bahnen (GGB) enters the Riffelalp Station, where hotel guests can head for the slopes or descend to Zermatt to visit the Alpine museum, shop, enjoy a "dine-around" in other Seiler Hotel properties, sample the local nightlife, or return to the outside world via the BVZ Zermatt-Bahn railway.
Also see: Index of Zermatt and Riffelalp articles and photo galleries.
Photo copyright © Durant Imboden, Europe for Visitors.
Used by permission. All rights reserved.