Photo Gallery:
Riffelalp Resort
Zermatt, Switzerland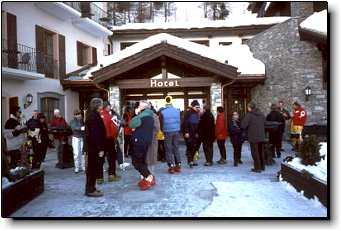 Riffelalp Resort: Main entrance of the hotel, where journalists from Switzerland, Germany, Italy, France, and England gathered during a weekend press conference in December, 2000. Roman Mooser of Zermatt, the hotel's architect, is the grey-haired man in the black clothing and grey shoes at left.
Also see: Index of Zermatt and Riffelalp articles and photo galleries.
Photo copyright © Durant Imboden, Europe for Visitors.
Used by permission. All rights reserved.