Photo Gallery:
Riffelalp Resort
Zermatt, Switzerland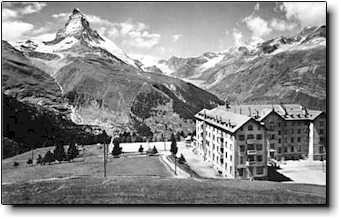 Riffelalp Grand Hotel: The original Riffelalp Grand Hotel opened in 1884. It attracted guests who ranged from royals to Rockefellers until a fire destroyed everything but two chapels and the hotel's annexes in 1961.
Also see: Index of Zermatt and Riffelalp articles and photo galleries.
Photo copyright © Riffelalp Resort.
Used by permission. All rights reserved.