Photo Gallery:
Riffelalp Resort
Zermatt, Switzerland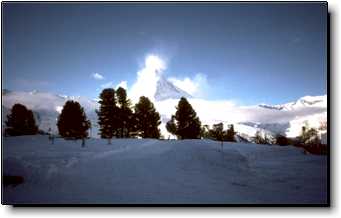 Riffelalp Resort: A winter view of the Matterhorn (with the summit shrouded in clouds) from the snowfield and ski trail next to the hotel.
Also see: Index of Zermatt and Riffelalp articles and photo galleries.
Photo copyright © Durant Imboden, Europe for Visitors.
Used by permission. All rights reserved.