Photo Gallery:
Riffelalp Resort
Zermatt, Switzerland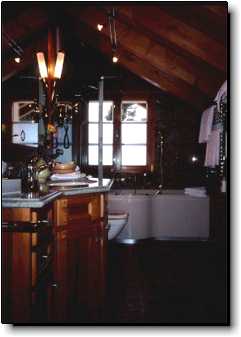 Riffelalp Resort: Bathroom of Room 45 in the "Nostalgie" wing. The bathroom is equipped with a whirlpool tub and curved glass shower doors, a large heated towel rack (great for drying do-it-yourself laundry), an electronic scale with metric and English readings, a polished granite countertop, and walls of greenish-grey granite. The bathroom also has a Bose Acoustimass speaker system with its own wall-mounted volume control, which is wired to the stereo system in the bedroom.
Also see: Index of Zermatt and Riffelalp articles and photo galleries.
Photo copyright © Durant Imboden, Europe for Visitors.
Used by permission. All rights reserved.