Photo Gallery:
Riffelalp Resort
Zermatt, Switzerland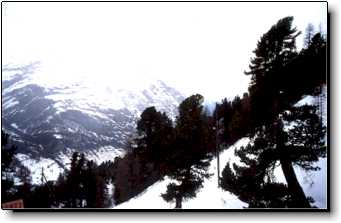 Riffelalp Resort: View from the open bathroom window of Room 45, which overlooks the trail to the Riffelalp station of the Gornergrat Bahn. The mountains in the distance lie behind Zermatt, which is deep in the valley below.
Also see: Index of Zermatt and Riffelalp articles and photo galleries.
Photo copyright © Durant Imboden, Europe for Visitors.
Used by permission. All rights reserved.