Photo Gallery:
Riffelalp Resort
Zermatt, Switzerland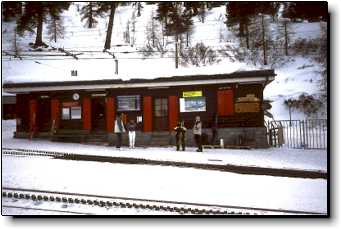 Riffelalp Resort: You'll arrive from Zermatt at the Riffelalp Station of the Gornergrat-Monte Rosa-Bahnen, or GGB. After leaving the cogwheel train, exit the station through the gates on the right side of the photo.
Also see: Index of Zermatt and Riffelalp articles and photo galleries.
Photo copyright © Durant Imboden, Europe for Visitors.
Used by permission. All rights reserved.