Photo Gallery:
Riffelalp Resort
Zermatt, Switzerland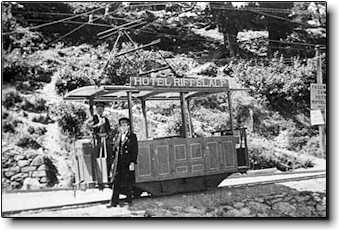 Riffelalp Grand Hotel tram: The century-old electric tram has been restored for summer use at the Riffelalp Resort. This picture shows the tram in the old days, when the world was still in black-and-white.
Also see: Index of Zermatt and Riffelalp articles and photo galleries.
Photo copyright © Riffelalp Resort.
Used by permission. All rights reserved.