Photo Gallery:
Zermatt (Dorf)
Switzerland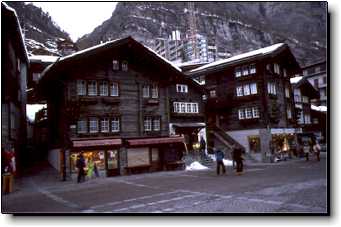 Zermatt village: A bakery (lighted display windows) occupies the ground floor of an old wooden chalet. In the background, near the cliffs, a tower crane is being used to erect a new building.
Also see: Index of Zermatt and Riffelalp articles and photo galleries.
Photo copyright © Durant Imboden, Europe for Visitors.
Used by permission. All rights reserved.