Photo Gallery:
Zermatt
Switzerland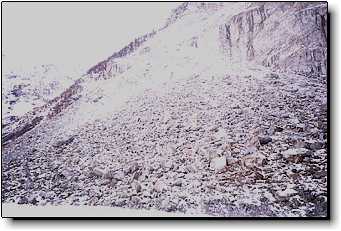 Zermatt: On the ride from Zermatt to Visp and Brig aboard trains of the BVZ Zermatt-Bahn railway (including the Glacier Express), you'll see a massive rockslide that wiped out the highway and railroad in the early 1990s. The railroad line was rebuilt across the valley in just 10 weeks.
Also see: Index of Zermatt and Riffelalp articles and photo galleries.
Photo copyright © Durant Imboden, Europe for Visitors.
Used by permission. All rights reserved.