Lausanne
Page 5
Continued from page 4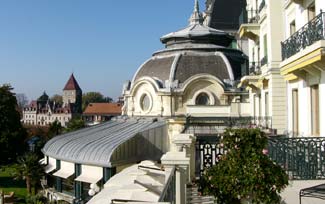 ABOVE: Le Château de l'Ouchy (background) and the Beau-Rivage Palace are two of Lausanne's classic lakefront hotels.
Hotels and other accommodations
When picking a hotel in Lausanne, your first challenge is to decide where to stay. Ouchy is convenient to the lake, the Olympic Museum, and steamers that run to other towns along Lac Léman. The Haute-Ville, or Upper Town, is more convenient to the railroad station, sightseeing, and the Flon nightlife district. (Still, location isn't as important as you might think, since Lausanne's newly-renovated Métro makes it easy to shuttle between the lake and higher elevations.)
In Ouchy, the Beau-Rivage Palace is the crème de la crème of the city's 5-star luxury hotels, with a private 10-acre park facing the lake. Nearby are the Angleterre & Residence (4 stars), which is spread out over six pavilions, and Le Château d'Ouchy (4 stars) at the Place du Pu Port, which resembles a French castle.
Uphill from Ouchy is the modern Continental (4 stars), which lies directly opposite the railroad station. It's a practical choice if you've got heavy luggage or an early train. The Elite (3 stars) occupies a refurbished building between the station and the old town.

In the Haute-Ville above the railroad station, the Alpha-Palmiers (4 stars) is an ultramodern glass structure whose rooms overlook a landscaped courtyard. The hotel, which was built in 2002 at a cost of CHF 40 million, is mostly hidden behind traditional façades on the Rue du Petit-Chiène.
The reception staff were friendly during my stay, and I was pleasantly surprised to discover a jar of peanut butter at the breakfast buffet, but my glass-walled room was a bit stuffy on a sunny day in late October when the air conditioning was off for the season. The management of the Alpha-Palmiers also run the stylish Swiss Wine Hotel & Bar (formerly the City Hotel, with 3 stars).
Farther up the hill on the rue du Grand-Chène (slightly west of the Place Saint-François) is the Edwardian-era Lausanne Palace & Spa (5 stars), which is the place to stay if you need quasi-royal accommodation in the city center.
For simplicity in a romantic setting, consider the Du Raisin, which has seven rooms (including studios with kitchenettes) above a café on the Place de la Palud in the pedestrian zone. The hotel was renovated in 2013, and its amenities include free Wi-Fi.
For more hotel options, see the Lausanne hotel listings from our booking partner, Booking.com, which offers guaranteed lowest available rates at Lausanne's leading hotels, B&Bs, and guesthouses.
Next page: Restaurants and food
---
---
---