Lausanne
Page 2
Continued from page 1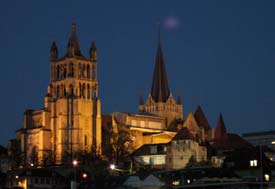 ABOVE: Lausanne's 13th Century cathedral is on a hill above the Haute Ville or old town.
Location
Lausanne is roughly midway along the northern shore of Lac Léman, as Lake Geneva is known outside the canton of Genève. The elegant small resort cities of Montreux and Vevey are to the east, separated from Lausanne by the Lavaux Corniche coastal road with its vineyards and wine villages. France is just 35 minutes across the lake by boat, and the mountains of Haute Savoie are clearly visible on a sunny day.
The city of Lausanne is built on three hills. The climb from the lakeside resort area of Ouchy to the Haute Ville, or Upper Town, is steep enough that the original Métro connecting Ouchy to Lausanne's main railway station and the Flon nightlife district was was a funicular and, later, a cogwheel railroad.
History
Archaeologists report that Lausanne's Haute Ville was occupied in Neolithic times. The first Christian bishop showed up shortly before 700 AD, and a cathedral was built about 200 years later.

Today's old town dates back to medieval times. The Château St-Maire, or Castle, was built from 1397 to 1426, and another prominent feature of the old town--the Eglise St-François--is about the same age as Cathédrale, which was consecrated in 1275. The Hôtel de Ville, or town hall, came later; the Renaissance building on the Place de la Palud was built in the 17th Century. (The inset photo shows a gargoyle from the Hôtel de Ville.)
Perhaps the most significant historical event in Lausanne was the Reformation, which arrived with a sermon by Guallaume Farel in 1529. By 1536, Lausanne had largely swapped Catholicism for Calvinism, and both the city and its canton have been Protestant ever since.
Next page: Sightseeing and excursions
---
---
---