Lausanne
Page 4
Continued from page 3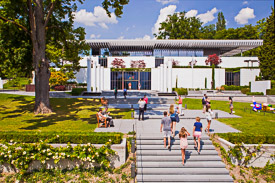 ABOVE: The Olympic Museum is in Ouchy, facing the lake. (Photo copyright IOC.)
Museums
Lausanne's Plan Officiel lists two dozen museums, a number of which have international reputations.
Close to the lake in Ouchy, the Olympic Museum is a "must see" attraction for sports fans and Olympic TV watchers. The modern museum has permanent displays, rotating exhibits, and computer terminals where you can watch performances from yesteryear. (The displays of medals and torches alone are worth the price of admission.) Not far away, the Musée du Vieil Ouchy (Museum of Old Ouchy) has historical exhibits about the fishing-village-turned-resort.

In the Upper Town, the Museum of Design and Applied Contemporary Art, or MUDAC, is easy to visit: It's directly across the street from the cathedral, where its modern exhibits and rooms are built behind the façads of four connected medieval houses.

Uphill from the city center (but well worth the walk or bus ride) is the Collection de l'Art Brut, where you'll find amazing works by the mentally ill, prisoners, and other artists on the fringes of society. The museum owes its existence to the French artist Jean Dubuffet, who donated his collection of "outsider art" to the city of Lausanne in 1971.
Another museum above the city center, the Fondation de l'Hermitage, hosts important visiting exhibitions in an old manor house. Walk a little farther up the hill (or take the #16 bus), and you'll reach the forest of Sauvabelin with an animal park and the Tour de Sauvebelin, a tower where you can enjoy panoramic views of the city and Lac Léman.
For more museums, see the Lausanne museums list at Tempslibre.ch or Lausanne Tourism's museums page.
Next page: Lausanne hotels and hostels
---
---
---