Lausanne
Page 6
Continued from page 5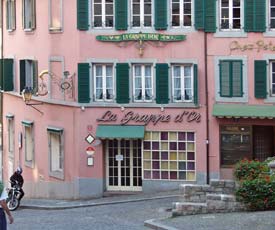 Restaurants
Lausanne is a prosperous city with a large tourist and student population, so you'll find plenty of restaurants and cafés in all price categories.

In the old town, Café du Grütli on rue Mercerie, just east of the Place de la Palud, is a cozy, old-fashioned restaurant where you can order wine by the glass or enjoy traditional Swiss specialties at prices that are moderate (though hardly cheap) by Swiss standards.
Another classic restaurant in the city center, Café Romand on Place St-François, serves drinks, sandwiches, and hot meals from 11 a.m. to 11 p.m. and has a menu on its Web site.

The lively warehouse district of Flon has a good selection of restaurants and bars. I had an excellent dinner in a lively, modern vinothèque facing the Place de l'Europe, where most of the diners were as trendy as the decor.
In Ouchy, two upper-end restaurants worth noting are La Rotonde at the Beau-Rivage Palace, which has a Michelin star and just 60 seats, and La Grappe d'Or (photo at top of page), where the highly-regarded French kitchen is commanded by a Bavarian chef.
For more advice on restaurants, see Wikitravel's "Eat" listings, Frommer's Lausanne restaurants, Fodor's Vaud restaurant minireviews, and Lausanne Tourism's links to restaurant listings and review sites.
Next page: Lausanne transportation
---
---
---