Lausanne
Page 3
Continued from page 2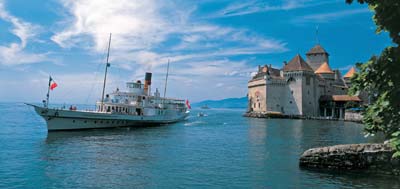 ABOVE: The Rhone and other vessels of the Compagnie Générale de Navigation sur le Lac Léman connect Lausanne to sights along the lake--among them, the Castle of Chillon.
Sightseeing
Lausanne has two main sightseeing areas:
The Upper Town, or Haute Ville, runs uphill from the main railroad station and includes the medieval old town. Bring your walking shoes and be prepared to climb hilly streets and steps if you want to visit the cathedral, the St-François church, and see other old-town attractions such as the Château Saint-Maire (a former episcopal palace) and the Tour de l'Ale (a watchtower dating to 1340 that was once part of the city walls). Flon, a trendy warehouse district turned nightlife quarter, is just to the west of the old town and the Place de l'Europe.
The Lower Town, or Haute Basse, more commonly known as Ouchy (the name of the fishing village that once stood on the shoreline), is a district of parks, lakeside promenades, elegant 19th Century resort hotels such as the Beau-Rivage Palace, and a handful of museums such as the world-famous Olympic Museum Lausanne.
If you're ambitious, you can easily view Lausanne's main sights in a day, but you'll probably want to allow time to savor the city and to visit at least a few museums (including the ones described on the next page).
Lausanne Tourism can arrange guided strolls for groups of 1-5 persons, using licensed tour guides. (See this article's Lausanne tourist information page for a link.)
Excursions
From the main railroad station, you can easily catch trains to Vevey, Montreux (with its Castle of Chillon), and the Lavaux wine villages.
Better yet, head for the waterfront in Ouchy, where you can take a CGN lake steamer to your destination on Lac Léman or enjoy a roundtrip cruise. (The mineral-water spa of Evian-les-Bains is directly across from Lausanne on the French shore of the lake; you can get there by boat in 35 minutes.)
Tip: Consider yourself lucky if you're touring Switzerland with the Swiss Pass: It lets you travel free on CGN lake steamers, Lausanne's transit system, and trains of the Swiss Federal Railways, which means you'll spend little or nothing extra to get around Lausanne and the shore of Lac Léman.
Next page: Lausanne Museums
---
---
---