Lausanne
Page 9
Continued from page 8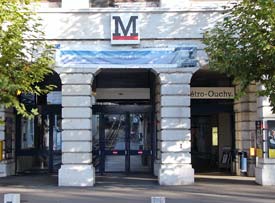 ABOVE: Lausanne Tourisme's headquarters is on the avenue de Rhodanie, a block west of the Ouchy Métro station (shown above).
Tourist information
Lausanne Tourisme, also known as the Lausanne Tourism and Convention Bureau, has a multilingual Web site with all the usual tourist information, including listings of events, festivals, and exhibitions.
When you're in Lausanne, you can pick up maps and brochures, get answers to questions, or request help in finding a last-minute hotel booking at the Lausanne Tourisme offices in the main railway station and on the Avenue de Rhodanie in Ouchy. See the official list for hours of operation.
The Ville de Lausanne or city of Lausanne site looks much like the tourist office's Web site, but it offers more detailed information on some topics such as parking, recreation, and culture.
The Office du Tourisme du Canton de Vaud, or Lake Geneva Region Tourist Office, is another valuable resource. Its English-language Web pages are packed with information on the "four worlds" of Canton Vaud (towns/lakes, Alps, the Jura region, and the Vaud countryside). It also has listings and links for local tourist offices throughout Canton Vaud.
Next page: Lausanne photos
---
---
---