Castle of Chillon Photos
From: Castle of Chillon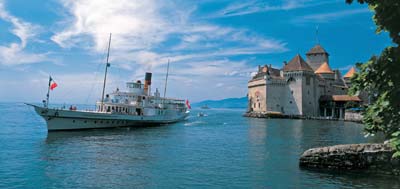 Lake steamers of the Compagnie Générale de Navigation sur le lac Léman stop at the Château de Chillon. Visit the CGN Web site for a journey planner, timetables, and fares. (You can save money with a Swiss Pass or the local Montreux Riviera Card.)
---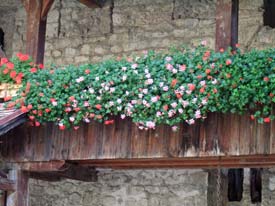 The Château de Chillon is less forbidding than many castles, thanks to the Swiss penchant for hanging flowerboxes in places where one might expect to see archers or cauldrons of boiling oil.
---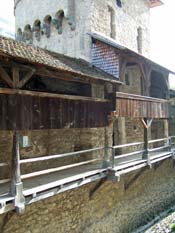 This view shows a parapet walk inside the castle courtyard, with one of several medieval towers behind. (Most of the current structure was built in the 11th to 13th Centuries.)
---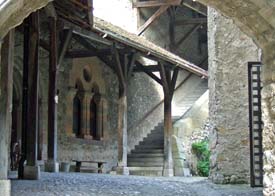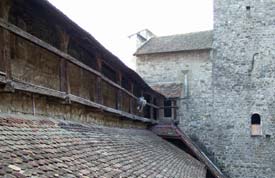 As you explore the Castle of Chillon, you'll climb staircases and walk along the sentries' gallery.
---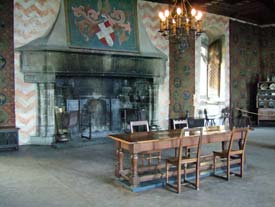 The interior of the Château de Chillon has rooms from different eras. Some are furnished to look as they might have appeared in the castle's heyday; others house collections of antique weapons and pewterware.
---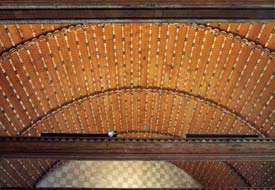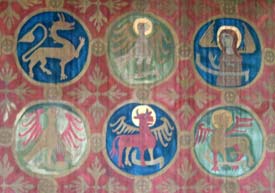 A barrel-vaulted wood ceiling, tapestries, and other decorations add warmth and a human touch to the the stone château's otherwise chilly interior.
---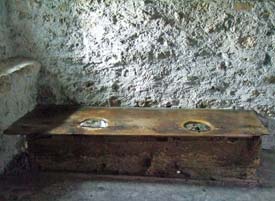 The 13th Century latrines are for display purposes only.
---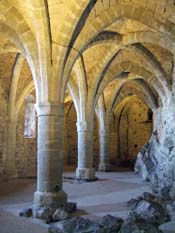 The dungeons are the best-known feature of the Château de Chillon, thanks to Lord Byron, who wrote:
There are seven pillars of Gothic mould,
In Chillon's dungeons deep and old,
There are seven columns, massy and grey,
Dim with a dull imprison'd ray,
A sunbeam which hath lost its way,
And through the crevice and the cleft
Of the thick wall is fallen and left;
Creeping o'er the floor so damp,
Like a marsh's meteor lamp:
And in each pillar there is a ring,
And in each ring there is a chain;
That iron is a cankering thing,
For in these limbs its teeth remain,
With marks that will not wear away,
Till I have done with this new day,
Which now is painful to these eyes,
Which have not seen the sun so rise
For years-I cannot count them o'er,
I lost their long and heavy score
When my last brother droop'd and died,
And I lay living by his side.

(From The Prisoner of Chillon
by George Gordon, Lord Byron)
---
---
---
Top and top inset photos copyright © ST/Swiss-Image.ch