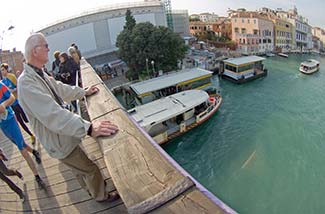 From the top of the Accademia Bridge, you can enjoy views of the Grand Canal in both directions. Here, a tourist is looking in the direction of Rialto. You can see the Accademia vaporetto station on the Dorsoduro side of the bridge, with the Accademia art gallery (wrapped for exterior renovation) just behind.
If you're hungry, head for the Dorsoduro side of the bridge and look for the Pizzeria Accademia by the water. The restaurant gets high marks for friendliness and value from the authors of Venice's premier restaurant guide, Chow! Venice, and its canalside patio is open year-round.
---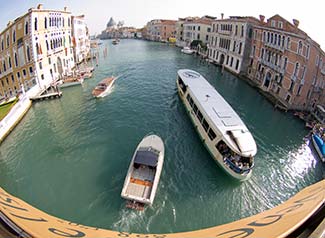 This fisheye-lens view from the other side of the bridge, toward the Santa Maria della Salute Church (the tiny dome in the top of the photo) shows boat traffic on the Grand Canal. The boat on the right is a No. 1 vaporetto, or waterbus.
---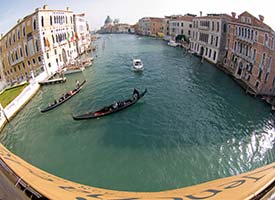 A few minutes later, the vaporetto is gone and two gondolas have taken its place in the camera's field of view.
---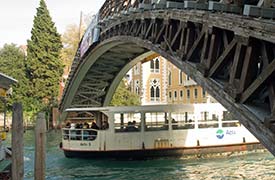 The view of the bridge's underside offers a lot of action, too: Here, another No. 1 vaporetto leaves the Accademia ACTV platform (just to the left of the wooden pilings) and heads toward San Marco.
---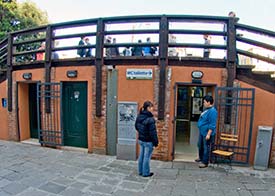 Beneath the entrance to the bridge on the Accademia side of the canal, you'll find attended public toilets. (You'll need coins to pay, unless you have a Venice Connected pass.)
---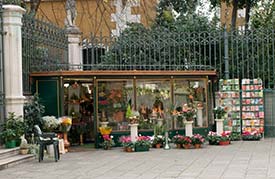 Just beyond the opposite end of the Ponte dell'Accademia, on the San Marco side of the Grand Canal, you can shop for flowers or garden seeds at a florist between the bridge and the Campo S. Stefano. (In December, the florist also sells Christmas trees.)