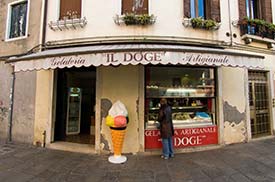 Il Doge, on the southern edge of the Campo Santa Margherita, has been a longtime favorite with our family. Try the tart and refreshing limone, which is reminiscent of a French sorbet.
Note: The Campo Santa Margherita has several ice-cream shops, but in our opinion, Il Doge has better gelato--and offers better value--than its competitors. (It also has a consistently friendly staff, and it's open fairly late into the evening.)
---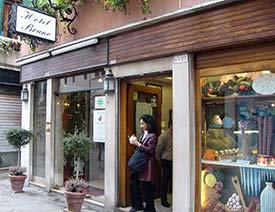 La Boutique del Gelato gets a big thumbs-up from us, and from the three Venetian guides who operate WalksInsideVenice. It's also recommended by several guidebooks. The tiny shop is next to the Hotel Da Bruno (click link for a map) on the Salizzada San Lio in Castello, not far from the Campo Santa Maria Formosa.
---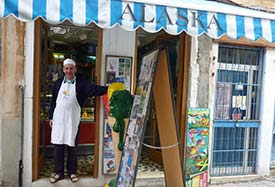 Alaska is run by an ice-cream artisan named Carlo Pistacchi who creates imaginative--and often delightful--gelato flavors from such unlikely ingredients as carciofi (artichokes) and cardomom.
The shop is close to the Campo San Giacomo dall'Orio and the Hotel ai Due Fanali, just across the Ponte dei Scalzi from the Venice Railroad Station. (See our blog post about the Gelateria Alaska.)
---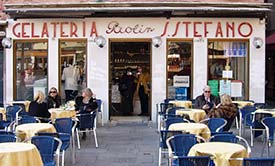 Paolin, on the Campo San Stefano, has a good reputation. Take-out prices are on the high side. (To its credit, Paolin has outlasted the Häagen-Dasz shop that opened nearby and failed to to win over Paolin's customers.)
---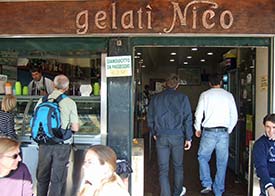 Nico, a popular gelateria and bar on the Zattere in Dorsoduro, is more expensive than most of its rivals. Still, the location is hard to beat: You can enjoy a gelato or an ice-cream concoction as you watch ferries, vaporetti, and ships cruise along the Giudecca Canal.
---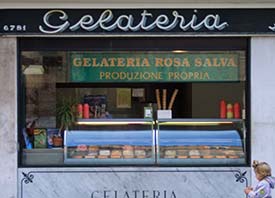 Gelateria Rosa Salva, on the Campo SS Giovanni e Paolo, is a popular stop with tour groups. Its prices are stiff, and portions are downright stingy.
---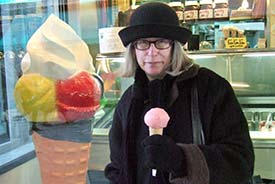 Gelateria C'a D'Oro is hard to miss if you're walking from the railroad station to the Piazza San Marco or vice versa: It's on the Strada Nova, the main pedestrian route through Cannaregio, just west of the Campo SS Apostoli. Prices are reasonable, the gelato is tasty, and the shop is open until fairly late in the evening.
---
Other recommended gelato shops:
Look for a small bar-gelateria on the Salizzada del Pistor, across from the Hotel Giorgione. (Click link for map.) In addition to gelato, the shop often sells an excellent homemade mousse in several flavors.

Grom, an Italian company founded in 2002, has built a cult following with its organic ingredients, sustainability, and gluten-free certification. The last time we checked, Grom had stores on the Campo San Barnaba and the Strada Nova.
Finally, to learn more about gelato and how it's produced, read Wikipedia's gelato article.