Hotel Ai Due Fanali
Page 3
Continued from page 2
Breakfast room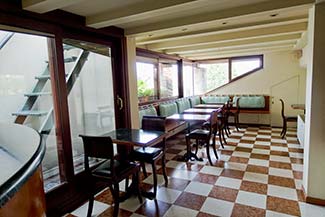 At the Hotel Ai Due Fanali, a buffet breakfast is included in your room rate. The breakfast room is on the third floor (or the fourth floor, if you use American numbering). Its large windows overlook the Campo San Simeon Grande.
In the photo above, you can see metal stairs behind a sliding glass door on the left side of the breakfast room. The stairs lead to a roof terrace ("altana" in Venetian dialect) where you can have breakfast or simply enjoy the view during the warmer months.
---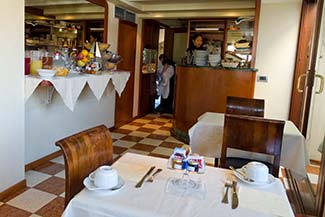 At breakfast, the tables are covered in white tablecloths. A buffet offers juices, fresh fruits, ham, cheese, boiled eggs, and other items. (But don't expect scrambled eggs, omelets, bacon, or sausages.)
---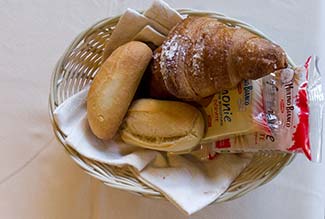 The woman in charge of the breakfast room will bring a basket of rolls, apricot-filled croissants, and Italian-style packaged toast to your table. If you need more, you're welcome to fetch them from the buffet.
---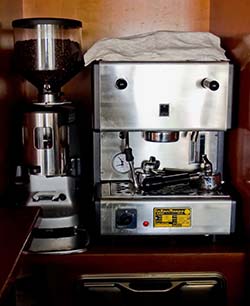 Coffee and hot milk are prepared with a traditional espresso machine and brought to your table.
---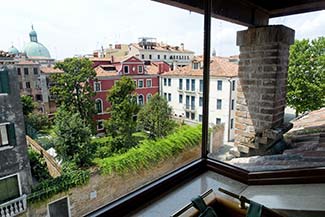 The breakfast room's panoramic windows offer lovely views. In this photo, you can see the Ca' Nigra Lagoon Resort and its gardens, where guests of the Ai Due Fanali are welcome to enjoy an outdoor café that overlooks the Grand Canal.
---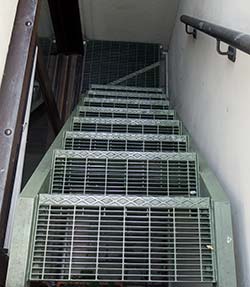 This metal staircase leads upstairs to the roof terrace or altana. You'll need to carry your plate from the buffet up the stairs, but the woman in charge of the breakfast room will bring coffee and a bread basket to your table.
---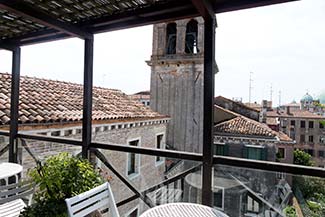 In this photo, which was taken on the roof terrace, you can see the tower of the Chiesa di San Simeone Profeta ("St. Simon the Prophet"), a 10th Century church that adjoins the hotel.
Next page: More photos
---