Hotel Ai Due Fanali
Page 2
Continued from page 1
My room: 303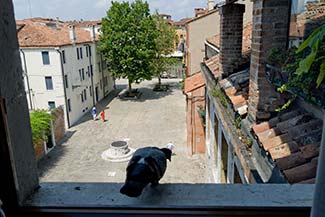 I'd booked a single through Venere, but when I arrived at the hotel, I was upgraded to room 303--a standard double room--at no extra charge.
Like nearly all of the Hotel Ai Due Fanali's rooms, room 303 looks out on the Campo San Simeon Grande.
In the photo above, you can see the Grand Canal at the far end of the peaceful square. On the right, brick columns support the altana or roof terrace above the third-floor breakfast room, which was just around the corner from my room.
The pigeon in the picture was room 303's self-appointed mascot: During my two-day visit, I often saw the bird perched on the windowsill, both when I was in the room and looking up at it from the campo.
---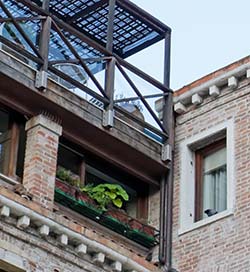 Here's an exterior view of room 303, with the hotel's breakfast room and roof terrace next door. The resident pigeon is on the windowsill.
The Hotel Ai Due Fanali has only 16 rooms, so it has a cozy and decidedly non-corporate feel. It's a good choice for a reasonably-priced honeymoon or romantic getaway weekend.
---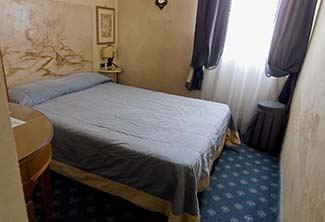 Room 303 was small, but that's fairly typical of guestrooms in midpriced Venetian hotels.
If you need more space and can to spend a little more, try the four-star Ca' Nigra Lagoon Resort or the Hotel Canal Grande. Both hotels are also on the Campo San Simeon Grande, and Ca' Nigra--which has spacious rooms and a huge garden--is a sister property to the Hotel Ai Due Fanali.
---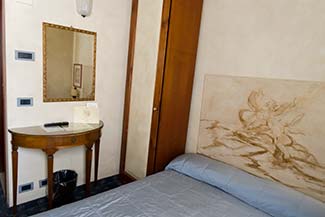 There wasn't much room in room 303's closet, and space for luggage was in short supply, but I could have left a suitcase downstairs in the baggage room if I hadn't been traveling light.
Other observations:
The hotel has central air conditioning, and my room stayed pleasantly cool during a blistering July heat wave.

The Hotel Ai Due Fanali doesn't offer free Wi-Fi, but I was able to pick up a signal--though not a strong one--from the city's public Wi-Fi network (which offers unlimited daily access for a reasonable fee). If I hadn't been so thrifty, I could have paid for the hotel's own Wi-Fi or Ethernet.
---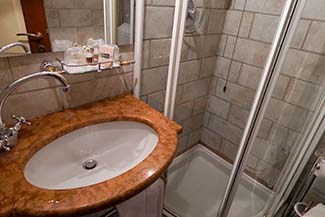 Room 303's bathroom was also small, but it was nicely appointed with a marble countertop, a shower stall, and a powerful exhaust fan. (There were two minor annoyances--a persistent drip from the base of the faucet, and a drain-plug lever that tended to bind--but neither was serious enough to affect my overall opinion of the hotel.)
---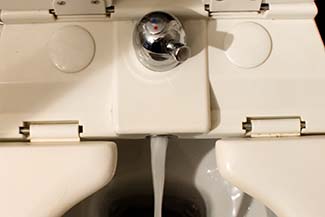 The bathroom didn't have room for a freestanding bidet, so an apparatus for spraying one's underside was built into the toilet seat. (See video on page 4).
Next page: Breakfast room and roof terrace
---