The Alloggi Marinella is on the Rio Terà dei Pensieri, a wide tree-lined neighborhood street that's only a couple of minutes on foot from the Piazzale Roma. ("Rio terà" is Venetian dialect for "filled-in canal.")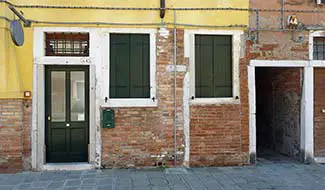 The reception office is in the main building (the Locanda, or inn) through the doorway beneath the oval sign at left.
Just to the right is a passageway that leads to a large courtyard, where a section called the Alloggi has a handful of "superior" rooms in a two-story brick building next to a canal.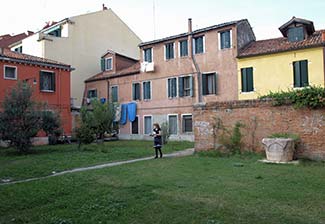 In the photo above, Cheryl is crossing the courtyard from the passage that leads from the street. (Alloggi Marinella's main building, the Locanda, is the yellow structure behind the brick wall at right.)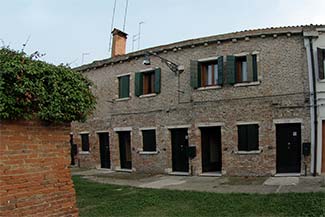 Our "superior double," room 340, was in the Alloggi annex behind the courtyard.
Rooms in the annex have their own private entrances facing the courtyard. They're more like small apartments than rooms: ours had a kitchenette in a locked cabinet that could be opened for an additional fee.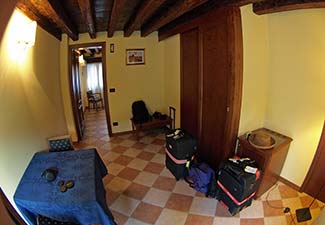 Room 340 had an entrance foyer that was convenient for parking our luggage. (If we'd been staying at the Alloggi Marinella in inclement weather, we'd have appreciated the foyer's table and chairs.)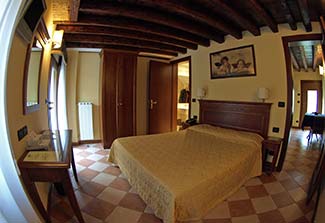 This fisheye view of our bedroom shows the beamed ceiling, marble floor, and traditional furnishings. (The door to the foyer is on the right. The bathroom is to the left of the bed, and a door on the left side of the photo leads to a private patio.)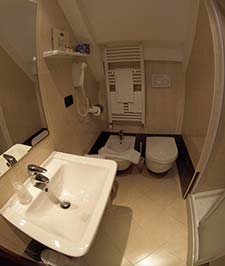 The bathroom was modern, with a shower, hair dryer, and a wall radiator that would have doubled as a heated towel rack in cool weather.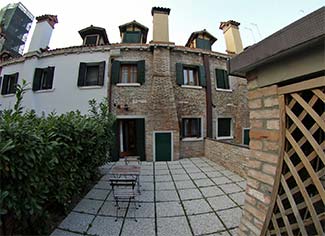 We were delighted with our private patio. One evening, when we were too tired and jet-lagged to sit in a restaurant, we bought a pizza at a nearby takeout place and ate supper outdoors.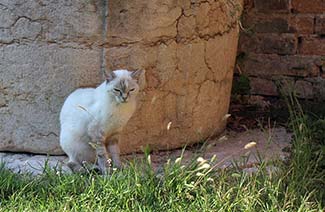 If you like cats, the Alloggi Marinella is your kind of place: We saw two neighborhood gatti hanging out in the courtyard, including this white cat that posed for us next to the wellhead.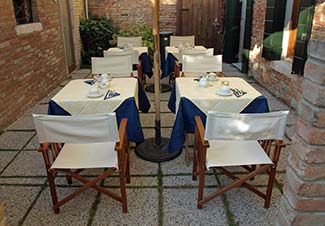 In nice weather, guests can have breakfast at outdoor tables in a walled patio behind the Locanda. (If it's cold or rainy, breakfast is served in a pleasant room indoors.)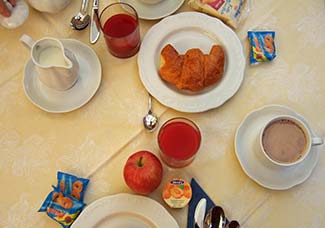 The Alloggi Marinella's breakfast is sparse by Northern European standards, but you won't go hungry: You'll get a jam-filled croissant with your coffee, tea, or hot chocolate, and a buffet table has fruit, yogurt, and Italian breakfast items such as cookies and store-bought pastries.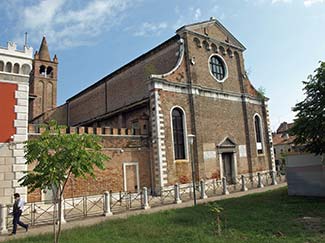 The quiet, peaceful neighborhood around the Alloggi Marinella is worth exploring. Just down the street, a walled prison is next door to the deconsecrated church of Santa Maria Maggiore.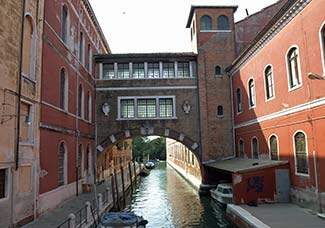 One block away, an abandoned tobacco factory is a reminder of the time when this section of Venice was a working-class and industrial area. (Today, many of the old warehouses and other buildings have been taken over Ca' Foscari University and the School of Architecture.)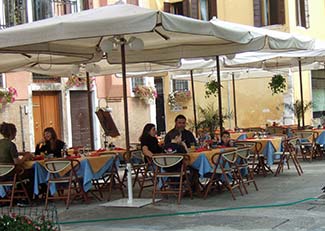 Back on the Rio Terà dei Pensieri, a café-restaurant has outdoor seating in good weather. (It's just a few steps up the street from the hotel.)