Hotel San Moisè Photos
From: Hotel San Moisè review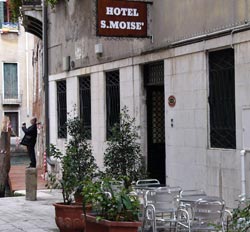 The entrance of the Hotel San Moisè is next to a canal (see tourist with camera). In the upper left-hand corner of the picture, you can see a balcony overlooking the canal from the hotel's main building.
---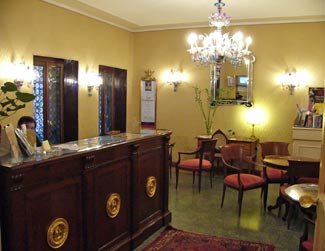 The main lobby has a reception desk and a seating area.
---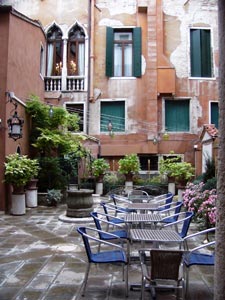 To reach room 107, we entered this private courtyard from the Calle del Cristo, which is around the corner from the main entrance. If it hadn't been raining, we would have been tempted to have a picnic at one of the tables.
Note the Venetian Gothic windows in the upper left section of the photo: The glowing lights inside are from a Murano glass chandelier in the upstairs lounge near our room.
---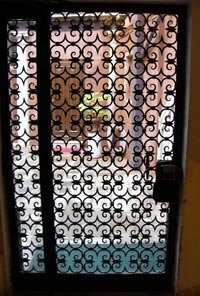 A wrought-iron and glass door with its own electronic lock separates the converted palazzo from the courtyard.
---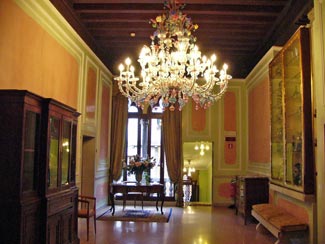 This photo doesn't do justice to the upstairs lounge, which looks like an aristocratic palace from the Venetian Republic's heyday.
---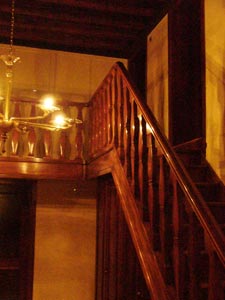 A wooden staircase leads up to a gallery with rooms on the second floor (or the third floor, if you're from the United States).
---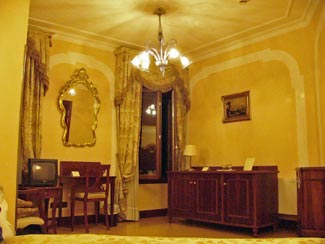 Room 107 is huge. (This yellowish cast is the fault of the camera and the photographer, not the decorator.)
---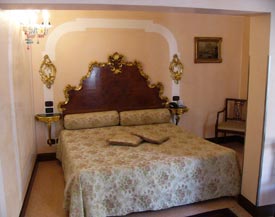 The bed in room 107 is tucked into a niche with a structural column at one corner.
---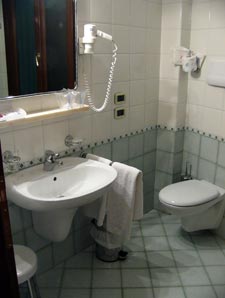 The large tiled bathroom has modern fixtures (including a bidet and full-size bathtub with shower).
---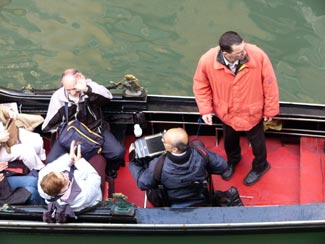 From the bathroom window, I looked down and snapped this picture of a Gondola Serenade tour.
---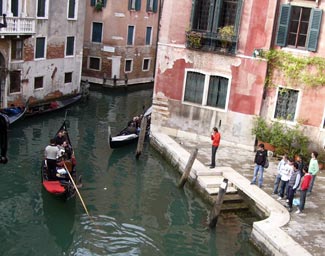 This final picture was taken from one of the two large windows in the main room. As you can see, the canal by the Hotel San Moisè widens into a basin where gondolas turn (and occasionally are passed by water taxis) before heading down a side canal.
Back to: Hotel San Moisè review
---
---