In our "Picking the best hotel location" article, we make a statement that's worth repeating here:
Many first-time visitors book hotels (or let their travel agents book hotels) without giving any thought to location. This can lead to frustrating and expensive mistakes.
To see why, let's look at another aerial photo: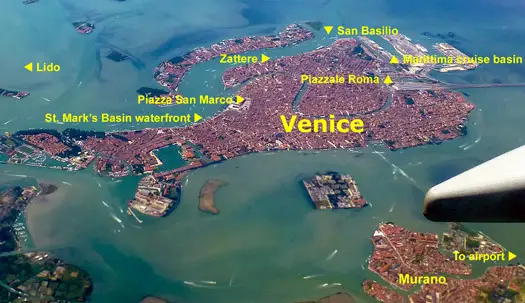 Let's say that you're arriving by air and spending two days in Venice before departing on a cruise ship from the San Basilio pier.
Your travel agent books you into a hotel in Castello, inland from the Piazza San Marco. You're traveling with large, heavy luggage.
Because your travel agent knows a lot about cruising but very little about Venice, she didn't realize that:
You'll need to walk over a series of bridges and down narrow, crowded streets with your bulky luggage to reach the hotel from the San Marco airport-boat stop, and...

On the day of your cruise departure, you'll need to lug your suitcases to a distant vaporetto pier where you can catch an expensive water bus to San Basilio, or--alternatively--pay 60 or 70 euros for a private water taxi.
You're going to have a frustrating experience that could have been avoided if you'd stayed at a hotel closer to your cruise terminal.
The same principle applies if you're arriving and departing by train: By staying within walking distance of the Santa Lucia railroad station, you'll save time, hassle, and money.
To find suitable hotels quickly and easily, see our Venice Hotel, B&B, and Apartments Guide.
Tip: Most hotel reservations can be cancelled without penalty if you give notice at least 24 to 48 hours before your stay. If you discover that you're booked into a hotel that doesn't fit your needs, see if you can cancel the booking and choose another hotel at a more convenient location.
Next page: Arriving and getting around