Photos of Venice Canal Work
From: Maintaining Venice's Canals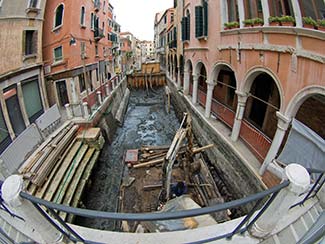 The photos on this page show maintainance work on the San Felice Canal in Cannaregio, just north of the Strada Nova.
The project includes restoration of a bridge, pavement, and foundations in the insula of San Felice, Lotto 1. (Venice's historic center is divided into 40 "insulae," or districts, for integrated public-works projects.)
---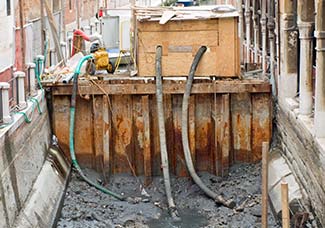 The view above shows a cofferdam with pumps on top. The hoses in the drained canal were used to suck up water and discharge it on the other side of the dam (small photo).
---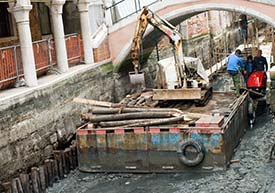 A barge sits on the muddy bottom of the drained canal, with a small backhoe being used to excavate muck and sewage sludge, lift pilings into place, etc.
---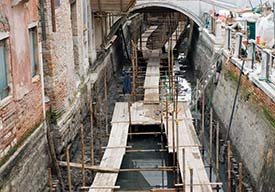 Wooden walkways give workers access to foundations along the drained canal. (Venice's buildings sit on foundations of Istrian stone--a type of white marble--which are supported by wooden pilings driven down through the mud to a layer of firm, solid clay.)
---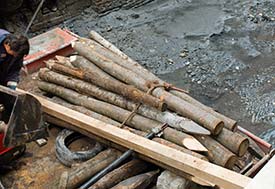 Traditional wooden pilings are used to replace old pilings that have deteriorated after exposure to air during the renovation project.
Back to: Maintaining Venice's Canals
---
---