Murano Hotels and Restaurants
From: Murano, the Glass Island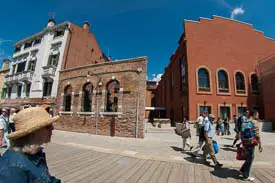 ABOVE: The Hyatt Centric Murano Venice, formerly the LaGare Hotel Venezia (shown on right), is Murano's first four-star hotel. We took this photo from the Murano Museo airport-boat and vaporetto stop, which faces the hotel.
Hotels and guesthouses
Murano has several hotels that are worth considering for a final night's stay if you have an early flight from Venice, since the Alilaguna airport boats take only 30 minutes to cover the distance from Murano to Marco Polo Airport. Visiting artists and glassmakers can put a strain on Murano's limited accommodations, so book early when possible.
Hyatt Centric Murano Venice
This four-star, 118-room design hotel opened in spring, 2013 under the name "LaGare Hotel Venezia." (See photo at top of page.) It's right next to the Murano Museo waterbus stop, where--from April through October--Alilaguna Linea Rossa boats from Marco Polo Airport stop on their way to the Lido and San Marco in Venice's historic center.

Hotel Al Soffiador
If you're a serious shopper, you may enjoy the convenience of hauling purchases back to this small two-star hotel between visits to the local glass factories and showrooms. The Soffiador has double, triple, and quad rooms with private baths plus a bar and restaurant. (Two rooms are equipped for disabled travelers.)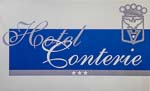 Locanda Conterie
This hotel in the "town house suites" category is a bit cheaper than the Soffiador but has earned favorable guest ratings. It has 26 air-conditioned rooms with ensuite facilities, offers Wi-Fi Internet access, and serves breakfast on a terrace in good weather. You can reach it from the Alilaguna Linea Rossa stop at Murano Museo without crossing any bridges.

Murano Palace
Booking.com guests and TripAdvisor fans give exceptionally high ratings to this B&B in the island's center. The inn is hidden away in a side street near a bridge where you'll see a winged lion atop a stone column. From the Alilaguna Linea Blu airport-boat stop at Colonna, you can reach the Murano Palace without crossing any bridges. (The same boat will take you to or from the Marittima cruise terminals.)
Another excellent place to stay is the Casa Sulla Laguna guesthouse, which is small and inexpensive.
Finally, Murano has a few vacation apartments that can be rented by the night or week. See The Comprehensive Guide to the Island of Murano (reviewed on page 8) for listings and descriptions, or try the excellent Ca' Mazzega Murano Grand Canal View Apartments, which consist of four holiday flats near the Murano Venier ACTV station.
Restaurants and cafés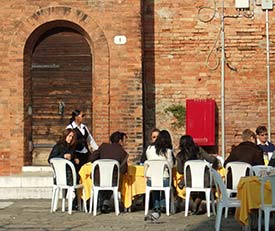 ABOVE: Outdoor dining at Busa alla Torre da Lele in early November. (The highly-regarded trattoria is located on the Campo Santo Stefano and is popular with both locals and tourists. Book ahead by calling +39 041 739 662.)

Murano has a fair number of restaurants, cafés, and bars scattered along its canals, next to the Basilica dei Santi Maria e Donato (right), and on the Campo Santo Stefano across the canal from the San Pietro Martire church. Some are pricey, but you can easily find snack bars, osterie, pizzerias, and gelato parlors for every budget. Just check the menus before you go inside. For recommendations with photos, see Michela and Nicoló Scibilia's Comprehensive Guide to the Island of Murano.

If you're really short on cash, you can buy sandwich makings, pizza by the slice, and other snack foods at the two-story, wheelchair-accessible InCoop supermarket and shopping center. InCoop is near the Colonna Actv boat stop, on the fondamenta that runs south along the canal from San Pietro Martire.
Dining tips:
If you're staying on Murano overnight, ask your hotel receptionist which of the island's restaurants is open in the evening. (Most tourists are day-trippers, so Murano's restaurants take turns staying open for dinner.)

Fish is sometimes sold by weight. If the menu doesn't show a fixed price, know what you're getting (and what you'll pay) before you order.
Next page: Tourist information and books