Hotels near the Piazza San Marco
Page 2
Continued from page 1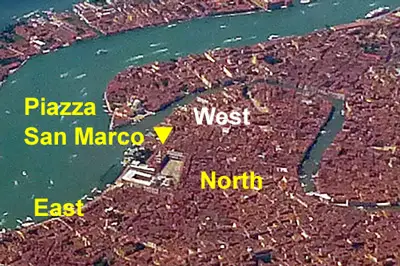 ABOVE: To reach the hotels on this page from Venice Marco Polo Airport, take the Alilaguna Linea Blu water bus to San Marco Giardinetti, then follow our walking directions with maps for each hotel.
West - Hotels toward the Accademia Bridge
Expensive hotels

One of the most conveniently located hotels in this neighborhood is the Luna Hotel Baglioni (5 stars), which is just off the western end of St. Mark's Square. The Luna is Venice's oldest inn, with a history that goes back to the time of the Crusades. Read our review of this intimate luxury hotel that attracts many repeat visitors from Europe and North America.
Europa & Regina (5 stars) is close by, and it occupies five connected palazzi next alongside the Grand Canal. The impressionist painter Claude Monet spent an autumn painting canalside views at the Europa & Regina (then the Hotel Britannia) in 1908.

The Hotel Bauer and Bauer Il Palazzo (5 stars) are sister hotels. The Bauer is a luxury hotel facing a small square next to a side canal where gondoliers wait for customers, while Il Palazzo is a more exclusive boutique property in a restored palace facing the Grand Canal. Amenities include an open-air rooftop hot tub where you can soak away aches from sightseeing.

Monaco & Grand Canal (4 stars) is just a short walk from the Alilaguna airport boat's pier. The hotel occupies a magnificent site where the Grand Canal feeds into St. Mark's Basin.
Moderate and budget hotels
Two personal favorites are within five minutes of the Piazza San Marco:

The San Moisè (photo at left) is a block north of the Calle Larga XXII Marzo on a quiet street near the Kette (4 stars). We've stayed in both hotels and can recommend either, although the San Moisè may be a better choice during the warm months because it has a courtyard with tables for guests. (See our
Hotel San Moisè review
.)
Other moderately-priced hotels west of the Piazza San Marco include the Violino d'Oro, Lisbona, Anastasia, Bel Sito & Berlino, Flora (which is featured in many guidebooks), Firenze, Do Pozzi, Torino, and--for operavores--La Fenice et des Artistes.

The slightly pricier Saturnia & International (4 stars), the very popular Ala (3 stars) and the highly-rated Locanda Fiorita (1 star, photo at right) are also within walking distance of the Piazza.