ABOVE: To reach the hotels on this page from Venice Marco Polo Airport, take the Alilaguna Linea Blu water bus to San Marco Giardinetti, then follow our walking directions with maps for each hotel.
The streets just to the north of the Piazza San Marco are packed with shops, restaurants, and three- and four-star hotels. The area is busy even after dark, when locals and tourists go window-shopping.
Moderately expensive hotels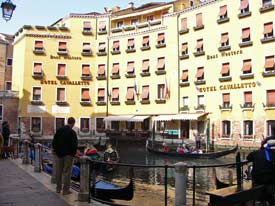 The beautifully situated Hotel Cavalletto e Doge Orseolo (4 stars) overlooks a fleet of gondolas on the Basino Orseolo, immediately behind the Piazza San Marco's northwestern corner and a few doors from Venice's Hard Rock Café. Accommodations range from single rooms to junior suites.

At the eastern end of the Piazza San Marco, the Concordia (4 stars) offers single and double rooms, some overlooking St. Mark's Basilica. (Click the thumbnail at right for a larger image; the Concordia is at the top left of the photo.)
Midrange hotels
Is a four-star hotel beyond your budget? Try one of these moderately-priced properties:

The Albergo San Marco (3 stars, photo at left) is just off the Piazza San Marco on the Calle dei Fabbri, a lively shopping street.
San Gallo (3 stars) is on a tiny square named the Campo San Gallo, a short block north of the archway near the Piazza San Marco's northwestern corner. Rooms range from singles to quads.
Alternatives within walking distance
If you're willing to walk a greater distance from the Piazza San Marco, the following hotels may be of interest. These hotels are roughly midway between the piazza and the Rialto vaporetto stop near the Rialto Bridge. It shouldn't take you much more than 10 minutes on foot to reach any of them, provided you don't get lost:
4 stars or equivalent: Acqua Palace, Bonvecchiati, Ai Reali, Residence Corte Grimani
3 stars or equivalent: Al Gazzettino, Antico Panada, Canaletto, San Zulian
2 stars: Alla Fava, Ca' delle Acque, Orion
1 star: Caneva