Pigeons of Venice
Page 2
Continued from page 1
A panoply of pigeons
Today, pigeons have formed colonies throughout the city, and the estimated 100,000 birds far outnumber Venice's 60,000 human residents.
It can be disconcerting to walk down a street and encounter several dozen pigeons flying toward you at head height. They usually miss pedestrians, but not always. Juli Van Zyverden, an American librarian who used to live in Venice, once told me how she'd seen a pigeon collide with an elderly man who wasn't quick enough to duck. The man was bleeding, so she escorted him to a pharmacy for a clean-up and bandage.

ABOVE: Could this be a scene from Alfred Hitchcock's The Birds?
A few words on feeding the birds:
Many Venetians are in the habit of leaving out grain or bread for the pigeons of the neighborhood. This is illegal under a decree that the Comune di Venezia issued late in 1997.
Also, sellers of pigeon food were legally banned from the Piazza San Marco in January, 2008, which means youre no longer able to bait yourself with grain to attract a living coat of pigeons like this American tourist from a few years ago (who apparently wasn't ticklish):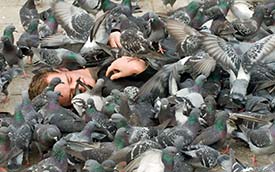 Back to: Pigeons of Venice
---
---