Venice Boat Rentals
Page 2
Continued from page 1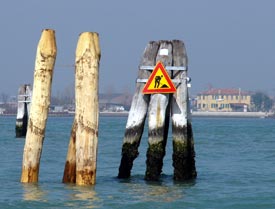 ABOVE: Channel markers near the glassmaking island of Murano in the Venetian Lagoon.
Suggested itineraries
As the captain of your own Pénichette, you have the freedom to go anywhere you like (within reason), but Locaboat Holidays does have several recommendations for cruise routes from Chioggia. The one- to two-week itineraries include cruising along inland waterways north of the Venetian Lagoon in the direction of Trieste:
One week: Chioggia, Venice and its islands, the mainland resort of Jesolo, Pontegrandi, and back to Chioggia. (143 km, two locks, two lifting bridges, 20 hours of cruising.) Alternatively, you might try Chioggia, Venice and its islands, Silea, Treviso, and back to Chioggia (160 km, four locks, three lifting bridges, 25 hours of cruising).
Ten or 11 days: Chioggia, Venice and its islands, Jesolo, Caposile, Marano, Chioggia. (170 km, two locks, eight lifting bridges, 30 hours of cruising.)
Two weeks: Chioggia, Venice and its islands, Jesolo, Caorle, Grado, Marano, Lignano, Cortelezzo, Pontegrandi, Chioggia. (344 km, 10 locks, 10 lifting bridges, 49 hours of cruising.)
If you're an experienced boater, you might consider including a cruise up the scenic Brenta Canal, which is famous for its Palladian villas (most of which are open to visitors).
Getting to Chioggia
Chioggia is about 60 km or 40 miles from Venice Marco Polo Airport and a bit farther from Treviso Airport, which is used by Ryanair and Transavia.
If you don't have a car, Locaboat Holidays can arrange transfers for an additional fee, or you can get to Chioggia by public transportation. (Take bus 80E from Venice's Piazzale Roma, or catch the 5 p.m. Linea Clodia boat from Venice Pietà to Chioggia. The bus runs every 30 minutes and takes about an hour; the daily boat arrives at 6:40 p.m., returning to Venice at 9:05 the next morning. For up-to-date timetables, see Actv.it)
More information and bookings
Locaboat has a Web site at www.locaboat.com where you can check prices, learn more about the available boats, and request a printed brochure.
Back to: Venice Boat Rentals - Introduction
---
---