1.
Buy your Alilaguna waterbus ticket at the "Public Transportation Tickets" window inside the terminal, near the exit from baggage claim and customs.

Alternatively, you can buy your ticket at an office or from a machine by the piers.

If you need a water taxi, look for the counters labeled "Speed Boat to Venice."

See our Venice airport boats article for more information on Alilaguna, or--if you're planning to use a water taxi--read our article about Venice water taxis.
---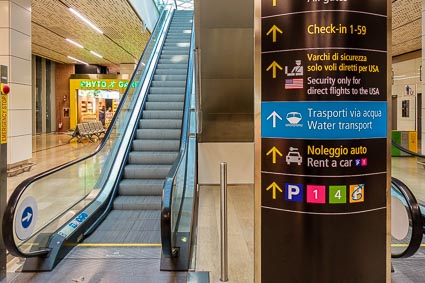 2. Look for a blue sign in the airport's lower lobby that directs you to "Trasporti via acqua / Water transport" and take the escalator upstairs.
---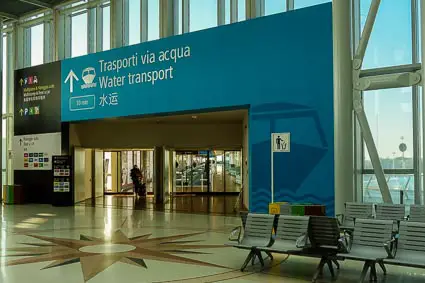 3. Upstairs, on the departures level, follow the signs to a large blue archway labeled "Trasporti via aqua / Water transport." Continue straight ahead to the moving sidewalk that will take you to the piers.
---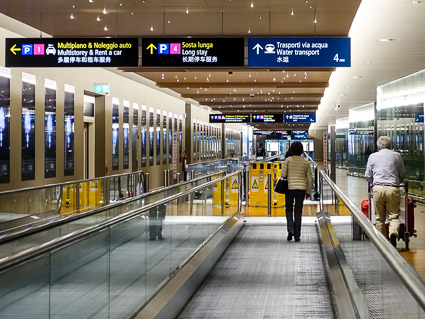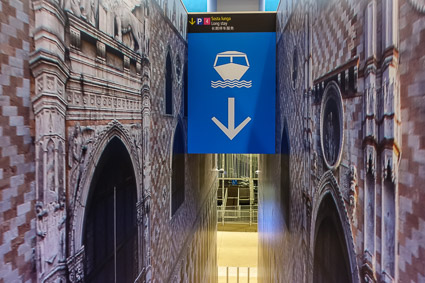 4. Follow the moving walkway toward the Alilaguna airport-boat and water-taxi piers.
 The signs claim that you can reach the boat in four minutes, but we'd allow a few minutes more.
---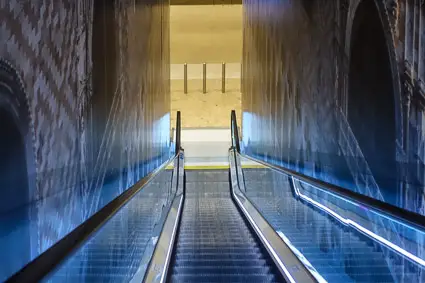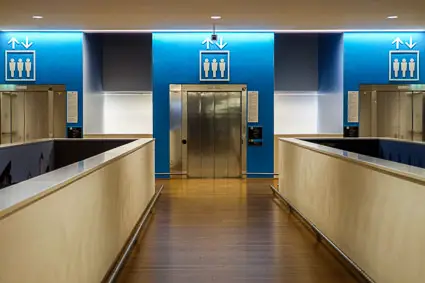 5. During your trip by moving sidewalk, you'll need to descend an escalator to the boat piers. (Elevators are available for passengers with wheelchairs, strollers, or bulky luggage.)
---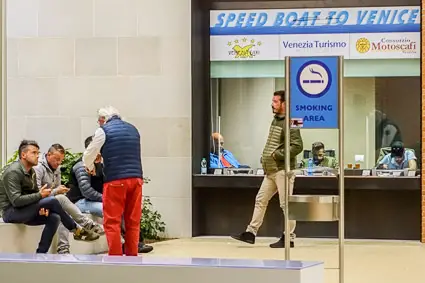 6. As you leave the escalator or elevator, you'll enter a large covered lobby by the piers. Here, you'll find another ticket office where you can buy Alilaguna waterbus tickets or arrange private transportation by water taxi. (You can also buy Alilaguna tickets from a vending machine.)
---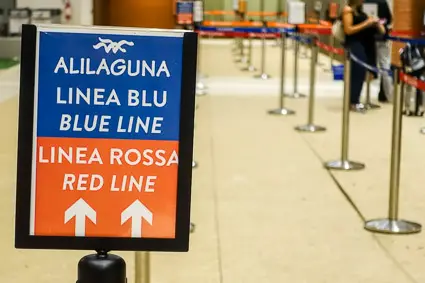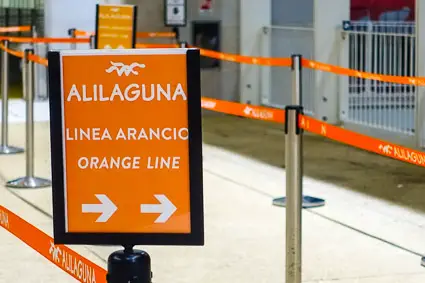 7. Follow the Alilaguna Linea Blu (Blue Line), Linea Rossa (Red Line), or Linea Arancio (Orange Line) sign to your boat's pier. See the timetables near the ticket office if you aren't sure which waterbus to board.
---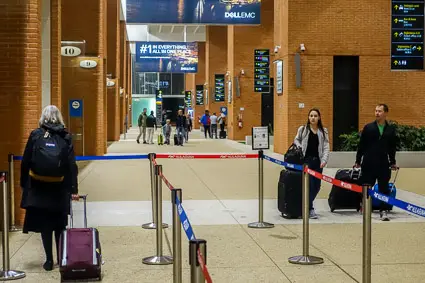 8. Wait inside the building, near the pier entrance, until it's time to board. (Depending on the line and time of year, Alilaguna water buses usually depart at 30- to 60-minute intervals.)
---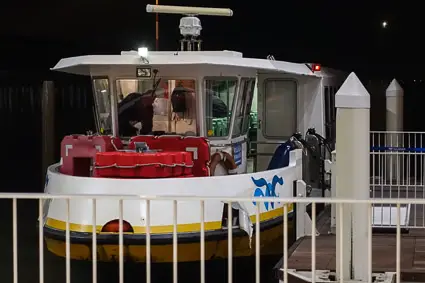 9. In theory, you're supposed to validate your ticket upon boarding. More commonly, the boatman will take your ticket from you, tear it, and hand it back.
The boatman may ask your destination (e.g., "San Marco" or "Rialto"), and if he doesn't, it's a good idea to tell him unless you're getting off at a major stop.
---
Water taxis: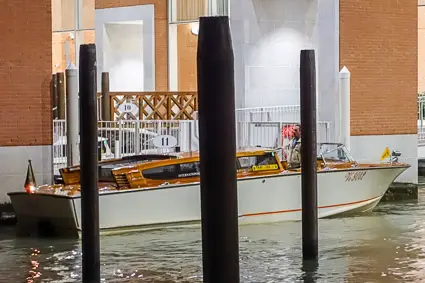 Water taxis arrive and depart at numbered piers along the hallway. (The pier in this photo is No. 11.)
When you book a water taxi at a "Speedboats" counter inside the airport, the agent will give you a voucher and tell you the number of the pier where your boat will be waiting.
---
---