Annelie
from: Fisheye Venice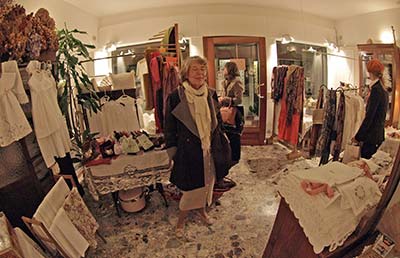 Annelie Pizzi e Recami is a gorgeous shop on the Calle Lunga San Barnaba, just off the Campo S. Barnaba in the direction of the Zattere. The owner, a native of Austria who has lived in Venice for nearly 20 years, offers a wide selection of beautiful nightgowns (vintage and new), embroidered little girls' dresses, purses, sachets, linens, and other items at prices that range from four or five euros to €100 or more.

The shop is lovely, the owner is both knowledgeable and charming, and the prices are extremely reasonable for the quality of the merchandise. What's more, most of the products are locally made--in some cases, from imported materials. The little girls' cotton dresses, for example, are pieced together from embroidered Chinese tea towels, resulting in dresses that look far more expensive than they are.
If you're looking for a romantic souvenir or gift from Venice, you're likely to find it at Annelie. It's the kind of shop that's hard to leave empty-handed.
---
---
---
---