Hotel Guest Ratings and Reviews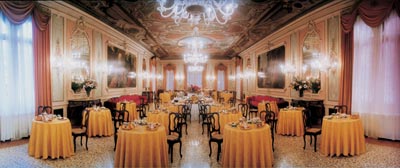 ABOVE: The Luna Hotel Baglioni in Venice has a stunning breakfast room and an equally spectacular 9.1 rating from registered guests. (See our own review.)
Venere Hotel Search - Venice
(with ratings and reviews)
Guest ratings, or user reviews, are a convenient way to find out if a hotel is likely to meet your personal standards of comfort, cleanliness, staff courtesy, etc. Unfortunately, not all reviews are equally useful: Major U.S. and British newspapers have described how public-relations firms and hotel managers plant phony guest reviews on user-written travel sites, thereby causing unpleasant surprises and disappointment for travelers who can't tell legitimate reviews from fakes.
Fortunately, there's an alternative to reviews that may or may not be real: the guest ratings from our main booking partner, Venere. Most Venere hotel descriptions are accompanied by guest ratings and/or reviews that have been written by people who have actually booked and stayed in the hotels. All ratings and reviews are subjective, of course, so please keep your own tastes and preferences in mind when reading other people's comments.
To compare hotels, guesthouses, apartments, and other accommodations and their guest ratings, visit Venere's Web site and search for properties in the cities that you'll be visiting.