Venice Hotel Maps
Where to stay in Venice's historic center, using customized Google Maps with more accurate labels and locations than you'll find on Google's own maps.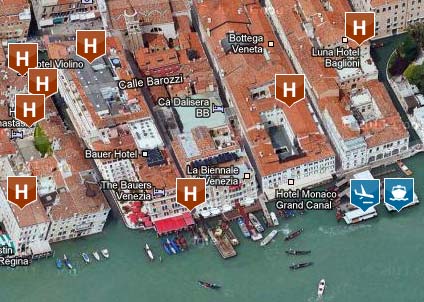 ABOVE: This screen capture shows a small segment of our Piazza San Marco hotel map.
By Durant Imboden
Click or tap the links below to see interactive, full-page maps of popular hotel areas in central Venice.
Each map has icons for transportation (such as airport bus or waterbus stops) and conveniently-located hotels.
Whenever possible, we've featured hotels that can be reached easily without crossing more than one or two footbridges.
On each map, you can mouse over the "H" icons to see names of hotels, and you can click on those icons for hotel information, photos, ratings and reviews by paying guests, and lowest available rates from our secure booking partner.
Note: These maps work best on a desktop or laptop computer, or on a large tablet. (They can be slow to load on phones with cellular connections, and the icons respond better to a mouse than to a fingertip.) If you have limited bandwidth or are using a mobile device, you may prefer our quick-loading "How many bridges to cross?" hotel listings.
---
---
---
---