Hotels near Alilaguna
Airport Boat Stops
From: Venice Hotel Maps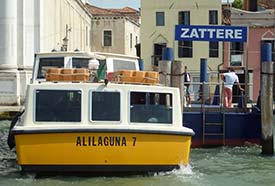 ABOVE: An airport boat at the Zattere pier on Alilaguna's Linea Blu or Blue Line. INSET BELOW: An Alilaguna boat in the Giudecca Canal, and a teddy bear on an airport boat's bow.
Start your hotel search with our interactive map of Alilaguna Airport Boat stops

Alilaguna's airport water buses are the most practical way to reach many areas of central Venice, including the Piazza San Marco, the Rialto Bridge, and the Marittima cruise terminal. Fares are reasonable, boats run fairly often, and the stops on Alilaguna's Linea Blu (Blue Line) and Linea Arancio (Orange Line) provide easy access to hotels in all price ranges. (See a map of Alilaguna's lines in a separate browser window.)

In this section of our Venice Hotel Maps, we've created a map for every frequently-served Alilaguna boat stop with hotels in Venice's centro storico or historic center. The maps are listed in the menu below, or you can click the icons on our Interactive Venice Map with Alilaguna Airport Boat Stops.
Please note:
Most of the featured hotels can be reached on level ground or by crossing no more than one bridge from the nearest Alilaguna stop. (This will be a great convenience if you're traveling with heavy luggage.)

If you aren't sure where to stay, don't worry too much: As long as you're within easy walking distance of airport transportation, you'll be fine. Venice's historic center is compact, and most of the sights are easy to reach on foot from any of our featured hotels. (On the other hand, if you have mobility problems, see our Accessible Venice article before choosing a hotel location.)
---
---
---
---
Tip for cruise passengers:
If your ship is leaving from the main Marittima basin, we recommend staying at a hotel on Alilaguna Linea Blu, since the Blue Line boats continue on to Marittima after the Giudecca (Hilton) stop. From stops along the Blue Line within the city center, you can catch an Alilaguna boat to Marittima for half the normal airport-boat fare.