---
---
Hotel Abbazia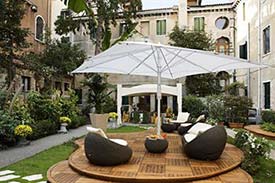 ABOVE: The garden of the Hotel Abbazia. INSET: A view of the Scalzi Church across the courtyard, and the monks' pulpit in the hotel lounge.
Category: Three-star hotel.
Location: Down a quiet side street near the Santa Lucia Railroad Station.
Convenient when:

You want a comfortable, interesting, moderately-priced hotel near the train station but off the main tourist route.
Don't let the location fool you: Despite its proximity to the Ferrovia (as locals call the railroad station), the Abbazia offers a healthy dose of charm and history.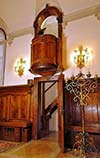 The 50-room hotel is in a former Carmelite monastery, and the huge lounge (once the abbey's refectory) still contains a wooden pulpit where monks used to read from the Scriptures during meals. In nice weather, you can have breakfast or relax after sightseeing in the restored monastery garden.
Several categories of rooms are available (with some overlooking the garden), and free Wi-Fi is offered throughout the hotel.
Check lowest available rates:
Aerial photos:
In the first photo, the Hotel Abbazia is near the top of the frame, down the Calle Priuli dei Cavalletti just behind the Scalzi Church and the railroad station. Near the bottom left corner of the image is the Calatrava Bridge, which leads into the Piazzale Roma (where you can catch airport buses, land taxis, or the People Mover to the Marittima cruise basin and the Tronchetto parking island).

The second photo is a close-up of the Calle Priuli dei Cavalletti. The Hotel Abbazzia is near the bottom of the picture, by the word "Cavalletti."