---
---
Hotel Adua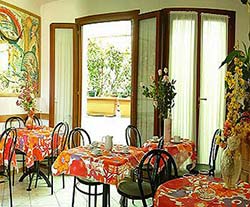 ABOVE: The Hotel Adua's breakfast room.
Category: Two-star hotel.
Location: On the Lista di Spagna, a pedestrian thoroughfare just east of Venice's Santa Lucia Railroad Station.
Convenient when:
You're on a tight budget, you're arriving or departing by train, and you're looking for a simple, affordable place to spend the night.
The Hotel Adua is a clean, no-frills hotel with 13 air-conditioned rooms (a big plus during during the often-humid Venetian summer). The hotel has two buildings: the main hotel and an annex. In the annex--where rooms are cheaper--toilets and showers are down the hall.
Wi-Fi is free at the Hotel Adua, but breakfast is not. (You can pay for breakfast in the hotel, but the neighborhood is full of bars and cafés where you can get a coffee and roll for less money.)
Check lowest available rates:
Aerial photos:
The top satellite image shows an overview of the neighborhood. The Marittima cruise-ship basin is on the left, with the Piazzale Roma (the arrival point for airport buses and land taxis) at the bottom of the photo. Above the Piazzale Roma is the Santa Lucia Railroad Station. The Hotel Adua is located on the street that runs from the station to the top right corner of the frame. (The hotel is about 200 meters from the station steps.)

In the lower photo, the Hotel Adua is the small 17th Century brick palazzo near the bottom corner, right behind the words "Terà Lista." Above the hotel are the Campo San Geremia and the Ponte delle Guglie bridge. Follow the crowd across the bridge, and you'll reach the Piazza San Marco in 20 to 30 minutes.