---
---
B&B Residenza Al Pozzo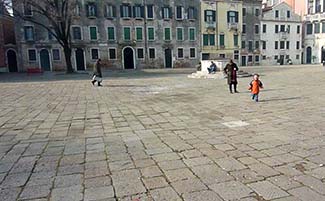 ABOVE: Jack, our grandson, dashes across the Campo San Polo. (The B&B Residenza Al Pozzo is in the yellow house behind the white stone pozzo or well.)
Category: Residenza (B&B).
Location: On the Campo San Polo, Venice's second-largest square after the Piazza San Marco.
Convenient when:
You're looking for a friendly, reasonably-priced alternative to a traditional hotel, and you're lucky enough get a room at this tiny B&B if you haven't reserved months ahead.
Al Pozzo ("At the Well") is often fully booked because it has only four air-conditioned rooms, each furnished in a traditional style. The roof terrace is another feature that draws savvy visitors: In summer, breakfast is served on the terrace, and guests can use it as an alfresco lounge throughout the day.
The B&B's location is perfect for visitors who want to experience a less touristy side of Venice: It's on a large neighborhood square alongside the main walking route between the Rialto Bridge and the Accademia Bridge. If you're fond of animals, go into the campo around 8 a.m., when you'll often see a pack of dogs chasing each other around the wellhead while their owners make small talk in Italian or Venetian dialect.
Please note:
On request (and at no extra charge), the English-speaking owners will meet you when you arrive in the city and walk you to the B&B.

Although the Campo San Polo usually has a laid-back neighborhood vibe, it can be lively on summer evenings (when movies are shown outdoors), during Advent (when a Christmas market takes place on the square), and at Carnival time, when events (such as ice skating on a temporary rink) may take place on the square.
Check rates:
Aerial photos:
In the top picture, the Campo San Polo is the large square above the Grand Canal. The B&B Residenza Al Pozzo is on the left (west) side of the campo.

In the second photo, the B&B Residenza Al Pozzo is in the yellow building facing the square. Look for a discreet plaque (illuminated at night) by the entrance.