---
---
Hotel Al Sole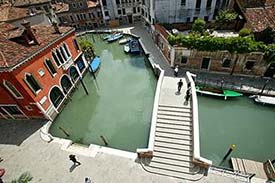 ABOVE: A view from the Hotel Al Sole. INSET BELOW: The hotel's 15th Century façade.
Category: Three-star hotel.
Location: On the Fondamenta Minotto, not far from the Piazzale Roma and the railroad station.
Convenient when:
You have an early flight, you're arriving or departing on a cruise ship, or you simply want an authentic Venetian hotel experience within walking distance of airport buses, taxis, and trains.

The Hotel Al Sole looks more expensive than it is: It's a Venetian Gothic palazzo from the early 1400s (owned by the same family for half a millennium) complete with a private courtyard and garden where breakfast is served in good weather. Its 51 guest rooms and junior suites are decorated in subdued Venetian style, with some facing the canal and others overlooking the garden. Triples and quads are available.
Check lowest available rates:
Aerial photos:
The top photo shows Santa Lucia Railroad Station at the top and--at left--the Piazzale Roma, which has airport buses, land taxis, and the People Mover to the Marittima cruise-ship basin and the Tronchetto parking island. The Hotel Al Sole is about 1500 feet or 450 meters east of the Piazzale Roma, on the Fondamenta Minotto (midway across the lower part of the frame).

In the close-up image, the Hotel Al Sole is the large tan Venetian Gothic palazzo on the Fondamenta Minotto just above the bridge over the canal.